Hyundai Motor takes SP2T class victory in gruelling 24 hour race
Veloster Turbo driver team included Hyundai Motor Deutschland Managing Director, Markus Schrick
Hyundai's purpose-built vehicle testing facility is located at the famous circuit 
Hyundai achieved a class victory, and 71st place overall, at its 'home' race: the Nürburgring 24 Hour in Germany.
The number 131 car finished an impressive six laps ahead of its nearest class rival, underlining the pace and durability of the Veloster Turbo. Competing against a field of 168 cars, Markus Schrick, Managing Director of Hyundai Motor Deutschland, was partnered by co-drivers Michael Bohrer, Guido Naumann and Rory Penttinen. The team qualified the Veloster Turbo in 123rd position overall, and managed to pass 52 cars before the chequered flag fell on Sunday afternoon. Schrick, who only made his competitive racing debut at the same event in 2013, put in an impressive performance during his elected stints behind the wheel.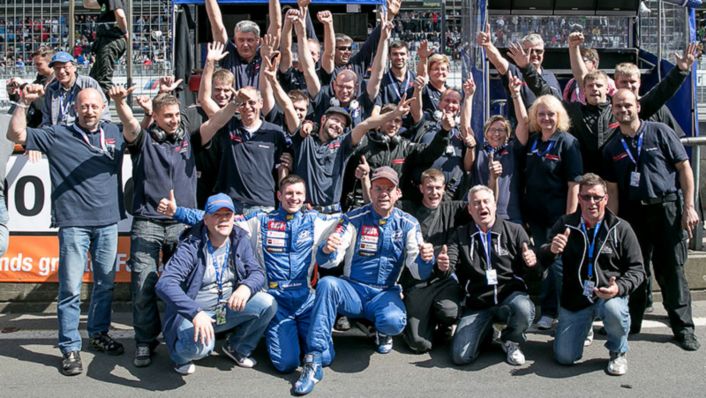 Class SP2T mandates that vehicles are closely related to their road-going production counterparts, and have an engine capacity no greater than 1,6-litres.
The Veloster Turbo race car was tested alongside several road-going models at the iconic Nürburgring circuit, where Hyundai enjoys a full-time presence. The purpose-built vehicle testing facility allows Hyundai to effectively evaluate and develop the durability and driving dynamics of its vehicles. Each car undertakes 480 test laps of the Nürburgring in both dry and wet conditions, simulating up to 180.000 km of all weather driving in less than six weeks.
Markus Schrick, commented: "It was a hard fight over 24 hours, but crossing the finish line was a great moment with incredible emotions for everyone at Hyundai. We set ourselves an ambitious goal and have achieved it - the car ran faultlessly and everyone involved with the project performed fantastically well."
Except for an incident around midnight, caused by a puncture after the car ran over some debris, the Veloster ran completely problem free. For a racing car which is so closely based on a production model, the drivability and speed of the car was simply amazing. All four drivers did a very good job and performed perfectly.
Allan Rushforth, Senior Vice President and COO at Hyundai Motor Europe, commented: "The Nürburgring is central to Hyundai's European testing programme, so participating in an official FIA event here is a special experience. This achievement highlights the quality and durability of Hyundai's latest vehicles, which perform even under the extreme pressure of a highly-competitive endurance race."
Germany is not only the location for the annual endurance race victory, but is also home to Hyundai's global motorsport activities, which includes its World Rally Championship (WRC) team, based in nearby Alzenau. The Hyundai WRC team is currently participating in its first season in the championship and has already enjoyed one podium and three stage wins to date.