Hyundai Motor to share its vision for a hydrogen society at HyBayern Hydrogen Days
Key Hyundai representatives will offer deep dives about company's future mobility strategy
Brand's fuel cell-powered NEXO, ELEC City Fuel Cell bus, and XCIENT Fuel Cell truck to be showcased at the event
HyBayern Hydrogen Days takes place from 21 to 23 October in Pfeffenhausen, Germany
Hyundai Motor is attending HyBayern Hydrogen Days to share its expertise on and vision for hydrogen energy. For the event, the company will focus on energy solutions, covering topics such as green hydrogen, Vehicle-to-Grid, second-life battery energy storage systems (SBESS), the RE100, and a hydrogen society. HyBayern Hydrogen Days is being held from 21 to 23 October in Pfeffenhausen, 80 kilometres north of Munich.
Under the motto "Game Changer Green Hydrogen", HyBayern Hydrogen Days will use speeches, exhibitions, and test drives to promote the role of hydrogen in energy and transportation, educate attendees on hydrogen technology, and share a status update on the hydrogen refuelling network. The event is funded by the German Federal Ministry of Transport and Digital Infrastructure.
HyBayern Hydrogen Days follows two major events in September. Hyundai was an exhibitor at IAA Mobility 2021 in Munich, where the company outlined its commitment to achieving carbon neutrality in its products and global operations by 2045. Additionally, Hyundai Motor Group joined the Hydrogen Wave online forum to share its plans for hydrogen energy and a global hydrogen society.
Hyundai's presence at HyBayern Hydrogen Days
Hyundai will be a main exhibitor throughout HyBayern Hydrogen Days – with presentations planned every day. On the first day, Project Day, which is reserved for HyBayern project partners and supporters of the hydrogen user centre in Pfeffenhausen (WTAZ), Oliver Gutt, Head of Future Business Development at Hyundai Motor Deutschland, and Martin Zeilinger, Head of Commercial Vehicle Development Tech Unit at Hyundai Motor Group, will talk about NEXO and the XCIENT Fuel Cell heavy-duty truck, respectively.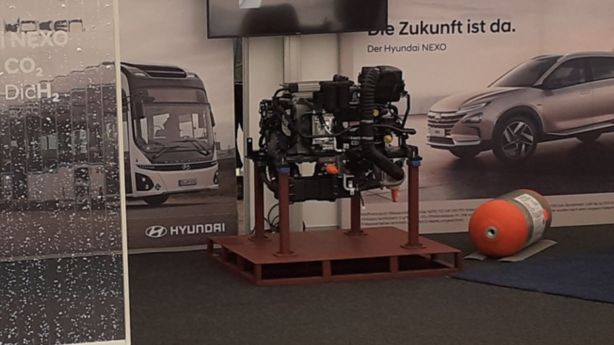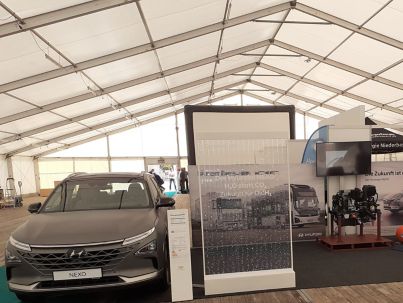 Left: Hydrogen consumption combined for the Hyundai NEXO in kg H2/100 km: 0.95; CO2 emissions combined in g/km: 0 (WLTP)
On the next day, Business Day for bus operators, logistics companies, and passenger car sales, Nabil Nachi, Head of Fuel Cell Electric Commercial Vehicle Development at Hyundai Motor Europe Technical Center, will cover the topic of fuel cell technology at Hyundai, and Daniel Keller, Chief Operating Officer at Hyundai Hydrogen Mobility, will present Hyundai's business case in Switzerland, the country's hydrogen ecosystem, and their plans to expand into other European countries.
The final day of HyBayern Hydrogen Days, Public Day, for anyone interested in hydrogen, will include a presentation on the technology behind XCIENT Fuel Cell by Markus Otremba, Manager Commercial Vehicle Department at Hyundai Motor Europe Technical Center, while Oliver Gutt will return to cover the NEXO.
In addition to presentations on Hyundai's hydrogen strategy, the company will organise exhibitions of its hydrogen tank, fuel cell systems, and Hydrogen Generator. Hyundai will also offer test drives of its XCIENT Fuel Cell truck, ELEC CITY Fuel Cell bus, and NEXO. The ELEC CITY Fuel Cell bus will serve as the official shuttle for politicians attending.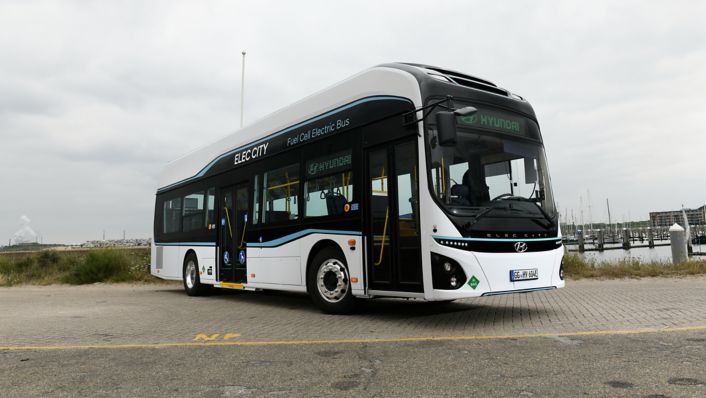 HyBayern Hydrogen Days is a platform that lets us demonstrate our deep knowledge of hydrogen energy. Additionally, it will give us the opportunity to showcase our latest innovations in fuel cell technologies – beyond the automotive sector as well.
Hyundai to promote its hydrogen vision
To continue to promote its commitment to and engagement in carbon neutrality, Hyundai is popularising hydrogen energy at a pan-European level. To do so, the company is leveraging its advanced fuel cell technology to lead the hydrogen society of the future. On top of including a fuel cell sedan, Hyundai will add more hydrogen-powered commercial vehicles in its product offerings.
Hyundai fosters a hydrogen society
Hyundai's world-class fuel cell technology has already been applied to mass production vehicles, such as NEXO, ELEC CITY Fuel Cell bus, and the XCIENT Fuel Cell truck. With a market share of 70 per cent, NEXO is one of the leading hydrogen cars on roads today. The hydrogen-powered passenger car boasts a world-leading driving range of 666 kilometres (WLTP).
Originally launched in 2019, there are currently 119 ELEC CITY Fuel Cell buses in operation in South Korea. By 2025, Hyundai plans to have increased that number to 4,600 units.
The XCIENT Fuel Cell truck is the world's first mass-produced fuel cell commercial vehicle. At the moment, there are 46 XCIENT Fuel Cell trucks in operation in Switzerland, but that number is supposed to jump to 1,600 units in Europe by 2025. The fleet has driven a collective 1.7 million kilometres so far and has reduced carbon emissions by 1,000 tonnes.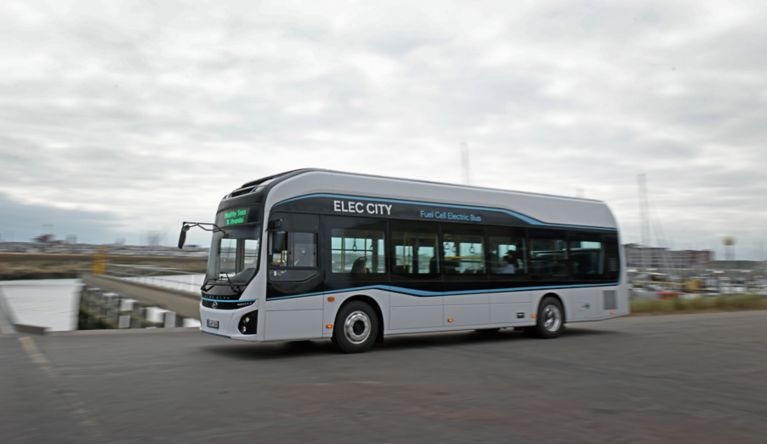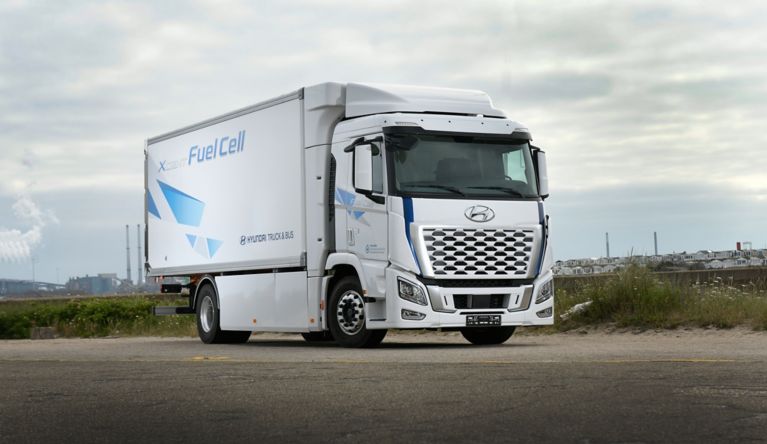 Hyundai as a major hydrogen player in Europe
On top of producing fuel cell vehicles and finding other innovative applications for hydrogen energy, Hyundai Motor Company is also a significant player for hydrogen technology in Europe. Not only is Hyundai Motor Company a member of the Hydrogen Council, but the company actively supports several HyLand projects in Germany and participates in the Clean Energy Partnership and Fuel Cells and Hydrogen Joint Undertaking. Hyundai Hydrogen Mobility, a partnership between Hyundai Motor Company and H2 Energy, has been establishing a successful hydrogen ecosystem in Switzerland and is expanding the XCIENT fuel cell truck business into other European countries as well.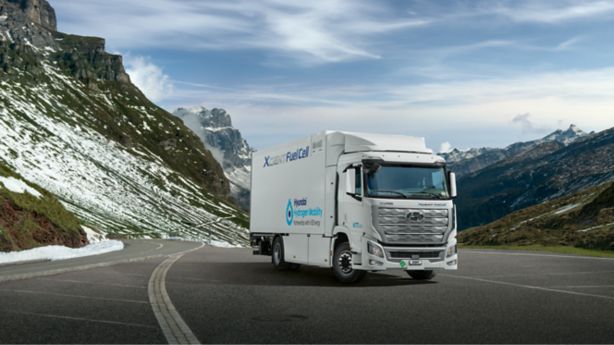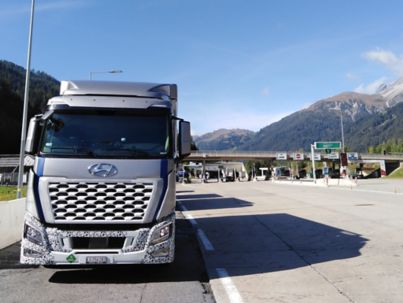 Crossing Brenner Pass in an XCIENT Fuel Cell
The XCIENT Fuel Cell recently crossed Brenner Pass, a frequently driven mountain pass through the Alps. Due to the road's few hydrogen refuelling stations, engineers at Hyundai worked closely with the South Tirol Hydrogen Center to plan a viable route.
The engineers drove the XCIENT Fuel Cell from the hydrogen refuelling station in Bolzano, Italy, over Brenner Pass and back into Switzerland. They took the opportunity to refuel there at 350 bar for the first time. By driving through Brenner Pass in a fuel cell commercial vehicle, Hyundai is doing its part to reduce carbon emissions on one of the most polluted transit routes.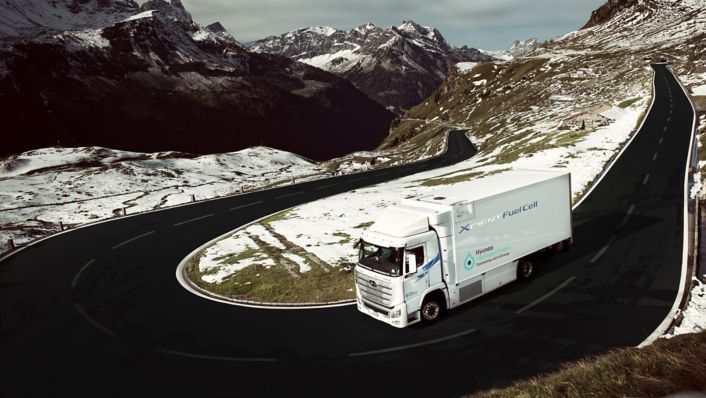 About Hyundai Hydrogen Mobility
Hyundai Hydrogen Mobility AG (HHM) is a partnership between Hyundai Motor Company and H2 Energy located in Zurich, Switzerland with the responsibility for all fuel cell electric commercial vehicles coming to Europe. HHM's goal is to contribute to an environmentally friendly and sustainable future and to decarbonise heavy duty traffic.
Disclaimer: CO2 and emissions data
Hydrogen consumption combined for the Hyundai NEXO in kg H2/100 km: 0.95; CO2 emissions combined in g/km: 0 (WLTP)