Broadcast of pre-Show begins at 11:15 CEST, Tuesday 15 September 2015
Online Newsroom enriches flow of information
Hyundai Motor showcases new models and visionary concept cars
Hyundai Motor will live-stream its press conference at the 2015 Frankfurt International Motor Show.
The live-stream will enable a wider audience to learn about the brand's passion for performance and a host of new Hyundai models, design concepts and technologies. New i20 Active and New Santa Fe will premiere, enhancing Hyundai's European range of Crossover and SUV models.

The company will also showcase its new high-performance N sub-brand, brought to life through the thrilling N 2025 Vision Gran Turismo concept car and the New Generation i20 WRC car being previewed ahead of the 2016 World Rally Championship season. The Vision G coupe concept introduces dynamic design and advanced technology as inspiration for future premium products.  

The Hyundai Motor press conference will take place in Hall 6 at 11:30 CEST on Tuesday 15 September 2015, and the livestream will be available via www.hyundai.news/IAA2015. Ahead of the press conference, viewers can look behind the scenes and watch interviews with senior Hyundai Motor management, previewing the latest news from the brand. The coverage will start at 11:15 CEST.
Visitors to the 2015 IAA will see a wide-ranging showcase of new models, concept cars and innovative technology from Hyundai Motor. Through our livestream broadcast and our new Newsroom channel, we will be able to share the experience with media, fans and enthusiasts around the world
How to follow the Hyundai Motor Europe Live Stream from Frankfurt Motor Show 2015
To view the Hyundai press conference live, visit: www.hyundai.news/IAA2015
Video material offered for download is for editorial purposes only and free of charge. This includes the press conference and interviews.
After the event, the entire press conference will be available to view on the www.hyundai.news/IAA2015
New PR Newsroom launched at www.hyundai.news

A new European PR Newsroom has been launched, at www.hyundai.news, to share the latest information and assets from Hyundai Motor with media, online influencers and enthusiasts. News releases, press kits, photos and videos are available on this new channel. Responsive design technology makes the site easy to access across the most popular platforms and devices. Social network plugins enable quick and simple news-sharing.


New Motor Show booth at Frankfurt Motor Show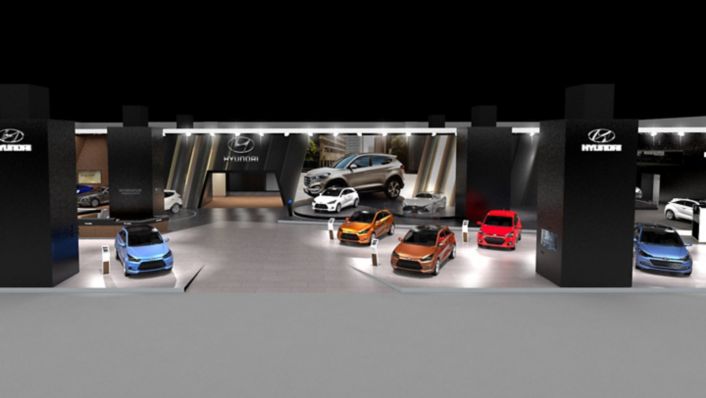 Hyundai Motor will introduce its new motor show booth at 2015 Frankfurt International Motor Show. The new booth, which will be continually adopted to worldwide motor shows, features a simplified modern design with diagonal and straight lines to present a consistent Hyundai brand experience to visitors.

The entire booth encapsulates Hyundai Motor's brand direction Modern Premium and its recent showroom identity delivering a caring and premium environment.

At a glance, diagonal and straight lines characterize the LED screen as well as lounge features and floors. In addition, the booth space including furniture and lights offer visitors a comfortable and caring experience consistent with Hyundai showrooms.


Hyundai N 2025 Vision Gran Turismo's silhouette revealed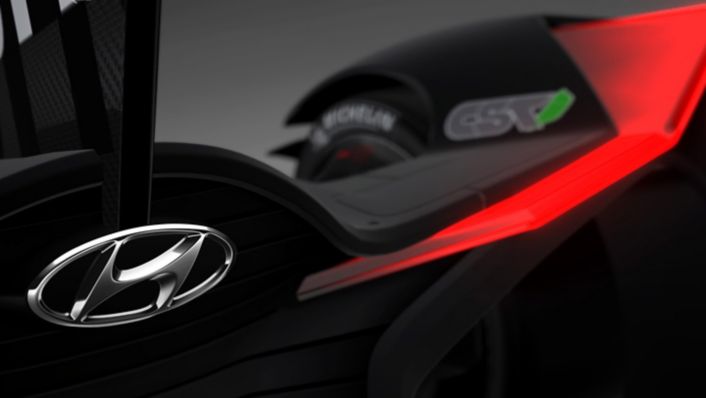 Highlighting sustainable technology and race car designed, Hyundai N 2025 Vision Gran Turismo will also be introduced during the Motor Show. This ultimate concept car offers a peek into the Hyundai brand's unique perspective on future performance cars.

The Hyundai N 2025 Vision Gran Turismo concept draws inspiration from aeronautics, employing a dynamic stance and with hints of a jet fighter design that blurs the line between air and asphalt.
Satellite details / Technical information for TV media regarding live broadcast (Live HD Feed Europe)
Date: September 15, 2015
Time: 11.15am - 11.45am CEST / 9.15am - 9.45am GMT
Satellite: EUT 12A
Transponder (digital): Tp. B3, Channel: A
Downlink Frequency: 11.043,500 MHz
Polarisation: horizontal (X)
EBU-Standard: 16_HD
Video Std: 1080i/50 Hz PAL
Audio Channels: Channel 1+2:  English
Modulation: DVB-S2 / 8 PSK
Symbol rate: 7.2000 Msymb/s
FEC: 3/4
MPEG: 4:2:0 / MPEG4
Encryption: No encryption