Hyundai Motor displays full range of commercial vehicles at Korean 'Mega Fair'
Roadmap for future commercial vehicles presented at the showcase event, including advanced intelligent safety features and eco-friendly technology
Elec City, Hyundai Motor's first mass-produced electric bus, is revealed before official launch in 2018
Hyundai Motor is demonstrating its vision for future commercial vehicle technologies at the inaugural 'Hyundai Truck & Bus Mega Fair' in Korea.
With a full line-up of current and upcoming commercial vehicles at the event (May 25-May 28), Hyundai Motor is reinforcing its commitment to develop alternative-fuel powertrains and intelligent safety features across its entire commercial vehicle range.
At the Mega Fair, Hyundai Motor revealed its vision for pioneering eco-friendly commercial vehicle technology with a new strategic roadmap. A key goal is to engineer environmentally-focused buses and heavy-goods vehicles, while positioning Hyundai Motor as a leader in safety technology within the commercial vehicle field.
The 'Hyundai Truck & Bus Mega Fair' presents an ideal opportunity to introduce Hyundai Motor's vision and competitiveness in the commercial vehicle arena. We're sure that a new era of commercial vehicle enterprise will begin with this showcase event.
Eco-friendly and Intelligent commercial vehicles

As it values sustainable growth and clean mobility future, Hyundai Motor aims to increase the fuel efficiency of its commercial vehicles by up to 30% by 2020 compared to 2015. To achieve this goal, the company will enhance its R&D capabilities in powertrain technology while also optimizing each of its commercial vehicle models to meet various customer needs.
As Hyundai enhances intelligent safety technologies for commercial vehicles, Hyundai Motor has equipped its large trucks and buses with safety features, such as Autonomous Emergency Braking (AEB) and Smart Cruise Control (SCC). Applications of these intelligent features will be expanded across the entire lineup of commercial vehicles in coming years. After adding connectivity features, Hyundai plans to conduct test-drive of platooning technology as early as next year under controlled circumstances.

Elec City – Hyundai Motor's first mass-produced electric bus

Hyundai Motor has a pedigree for developing alternatively-fueled commercial vehicles, with research and development into hybrid, electric and fuel cell technology starting in 1999. This led to Hyundai Motor producing the ground-breaking Blue-City commercial vehicle in 2013 – the world's first Compressed Natural Gas (CNG) hybrid bus.
Since 2015, Hyundai Motor has accelerated its research and development of electric and fuel cell buses. Elec City – Hyundai Motor's first mass-produced electric bus – showcases the brand's technological achievements, highlighting the breadth of electric bus technology from the brand. Alongside production of the electric bus, Hyundai Motor plans to launch the third generation of its fuel cell bus in 2018, having shown the first-generation vehicle at the 2006 FIFA World Cup in Germany.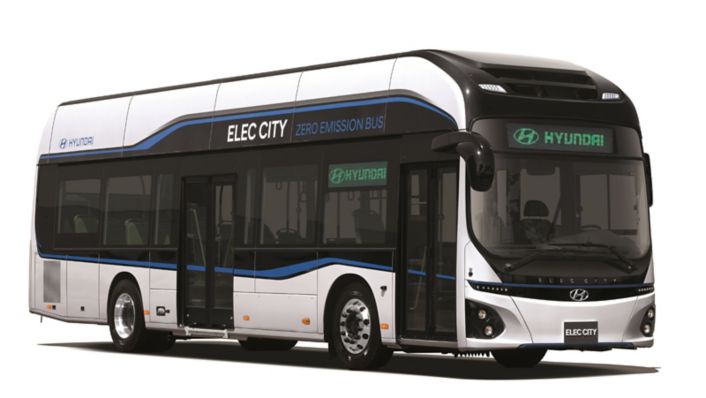 Hyundai Motor has achieved a lot in the eco-friendly vehicle field, but we will never stand still. We continue to invest heavily to ensure zero-emission technology for all commercial vehicles.
Elec City provides a glimpse into the future of the public transportation. The bus demonstrates the suitability of Hyundai Motor's pioneering fully-electric powertrain for commercial application.
On the road, Elec City boasts best-in-class driving range. With a 256kwh lithium-ion polymer battery, the bus can drive 290km (180 miles) on a single charge. Furthermore, it features a variety of safety- and human-centered facilities, such as Around View Monitoring and a Full Color Digital Cluster.
Hyundai Motor's commercial vehicle commitments reach around 130 countries and the company aims to sell more than 105,000 commercial vehicles globally this year.