Campaign demonstrates a renewed commitment to customer experience innovations with five commercials on how Hyundai Motor offers quality time, real-life connections
The films illustrate the various ways Hyundai's autonomous, micro, clean and robotics mobility solutions empower people to pursue their passions at full throttle
Hyundai continues its pursuit of human progress via diverse open innovation channels; investments in mobility as a service, autonomy, connected, and clean technologies  
Facilitating human progress has been Hyundai Motor Company's underlying philosophy since its very inception.
As a world-leading smart mobility solutions provider, Hyundai Motor has pioneered and popularized an increasing number of cutting-edge technologies and solutions that are designed to provide people quality time and empower them to pursue their passions at full throttle.
The company's vision for enabling progress for humanity is artfully captured in a new global brand campaign, #BecauseofYou, featuring five commercial videos released today, available on the HyundaiWorldwide YouTube channel.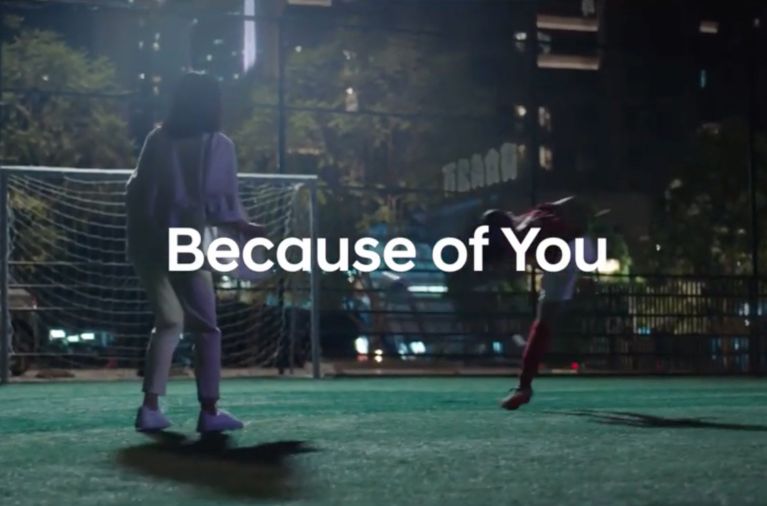 The five films highlight Hyundai Motor's new aspiration for its brand – spurring real-life connections between people and offering them qualitative experiences through its advanced mobility solutions, including autonomous, fuel-cell electric, micro and robotics mobility solutions.
The campaign's clarion call, "Because of You", illustrates the various ways Hyundai Motor's innovations allow the re-imagination of future, as well as enhance life experiences, with the "Hyundai Manifesto" film summarizing the four storylines.
As a brand offering diverse mobility services beyond the transportation sector, Hyundai Motor has captured into these films its passion for offering valuable time to its customers. Going forward, Hyundai Motor will continue to communicate its vision of prioritizing progress for humanity, and help make real-life connections and deliver meaningful experiences for our customers.
In the first film, shot in downtown Amsterdam during the morning rush hour, titled, "08:50 Amsterdam", a female worker finds herself trapped in a torpid traffic, unable to get to work on time. Then in a brilliant move, she gets out of her NEXO fuel-cell electric SUV and hops onto a Hyundai electric scooter – an increasingly popular "last mile" micromobility device – zig-zagging her way through the jam to arrive at her office. Out of the window, she looks at her NEXO as it snugly parks itself after having arrived there autonomously.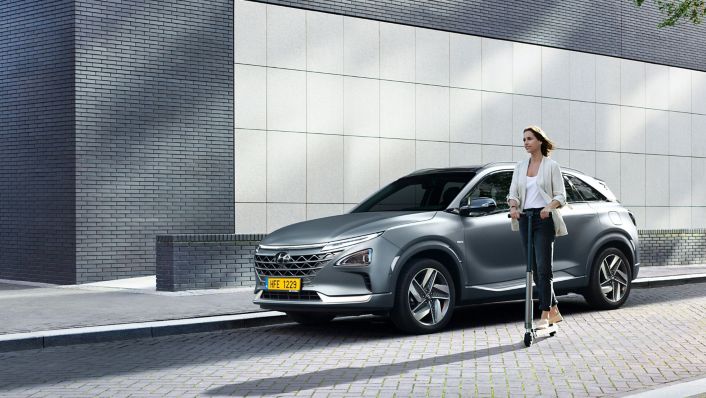 In the second clip, set in an early afternoon in Seoul, titled, "13:08 Seoul", Korean para-athlete and archer Park Jun-beom competes in an archery game. To the surprise of onlookers, he stands up from his wheelchair, supported by Hyundai's wearable robotic suit H-MEX (Hyundai Medical Exoskeleton), and unleashes an arrow. Thanks to Hyundai Motor's robotics technology, athletes experiencing physical disabilities can now compete on a level playing field, rising above their limitations.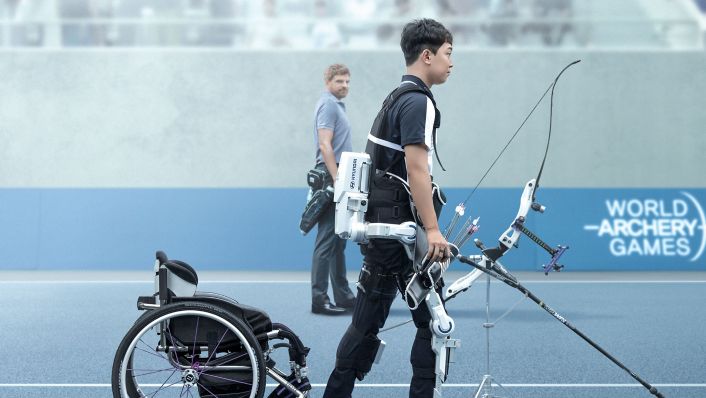 In the third film, set against the backdrop of outskirts Los Angeles in the late afternoon, titled, "17:40 Los Angeles", a couple paraglides down on a mountain, while their NEXO trails them smoothly along a winding road in autonomous mode. The man and woman touch down just ahead of the NEXO, and the three rejoin at a rendezvous. Tapping Hyundai Motor's autonomous driving solution, people can now pursue their passions at full capacity.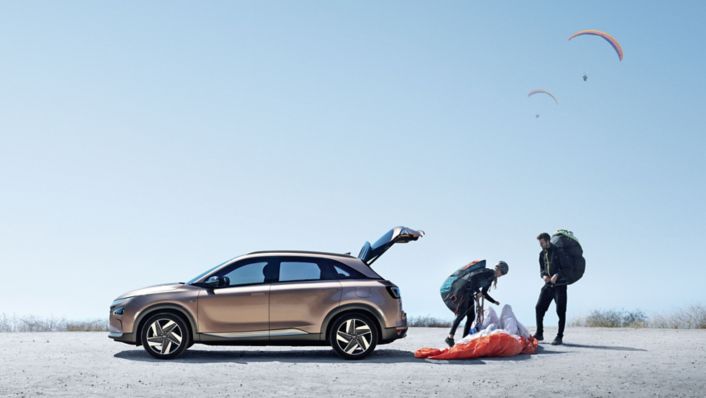 In the last film, shot in the Chinese city of Chongqing in late evening, titled, "21:58 Chongqing", an elementary school girl practices soccer on a field emptied by her friends after a lost match, disheartened, yet still longing for self-consolation. Soon the light goes out, adding to her disappointment. Her mother, who had watched her daughter all along, steps in, and plugs the NEXO to a power supplier, illuminating the whole scene again. The two revel under the limelight, as the NEXO powers their precious moment.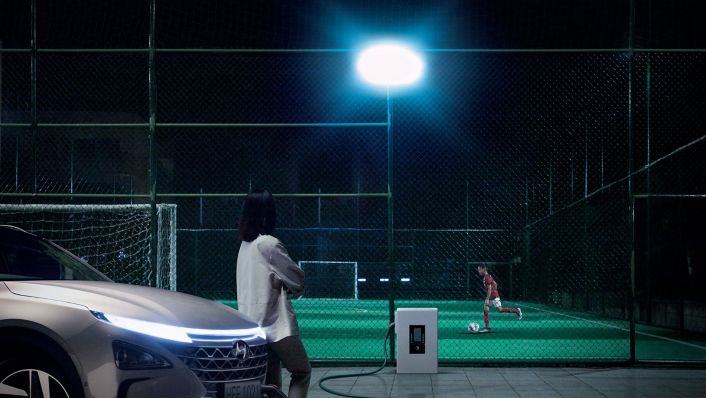 All of these commercials, which are coalesced into the final Hyundai Manifesto film, titled, "Because of You. Our Story", exemplify the various ways people, using Hyundai Motor mobility solutions, can overcome the boundaries of time and space to enhance the quality of their experiences.
Hyundai is making these technologies and experiences possible through a series of investments and partnerships. For example, in September, Hyundai Motor Group announced a USD 4-billion joint venture plan to develop self-driving vehicle technologies with Aptiv, a world-leading enterprise specializing in autonomous driving solutions development. The joint venture will advance the design, development and commercialization of SAE Level 4 and 5 autonomous technologies, furthering the partners' leadership in the global autonomous driving ecosystem.
​​Also in September at the 2020 Spring / Summer New York Fashion Week, Hyundai Motor demonstrated its commitment to sustainability with its Re:Style Collection, partnering with Zero + Maria Cornejo to unveil upcycled clothes created with leftover leather scraps from car seats. The event attracted the attention of leading media organizations worldwide for bringing the automotive and fashion industries together for a creative collaboration, thus illuminating a way forward for the burgeoning sustainable fashion industry.
In clean mobility, via the NEXO fuel-cell electric vehicle as well as other electrified models, Hyundai Motor is spearheading the innovation of ecofriendly technology in tandem with the world's decarbonization and energy transition trends. As Hyundai's second-generation FCEV with a 609-kilometer range on a single charge (under Korean certification standards), NEXO emits only clean water vapor and purifies the air while driving, filtering 99.9 percent of ultra-fine particles in the process.
​Around the world, Hyundai Motor is fostering the growth of fuel-cell and other related industries as part of its FCEV Vision 2030. The vision aims to create a worldwide hydrogen society which leverages fuel-cell technologies beyond the transportation sector. Hyundai Motor is part of the Hydrogen Council, a worldwide CEO-led coalition of 60 energy, transport and industry companies united by their sustainable vision to develop a global hydrogen society.