Hyundai Motor launches Click2Drive, a new online car sales concept supported by physical stores
New Hyundai Click2Drive Gamboa dealership opened in Madrid, Spain
Concept builds on success of Rockar Hyundai, an innovative approach to buying cars online
Hyundai Motor has expanded its digital car sales revolution to Spain by launching the new digital car dealership Hyundai Click2Drive.
The new concept is accompanied by the opening of the first Hyundai Click2Drive Gamboa dealership in Madrid, building on the success of Rockar Hyundai in the United Kingdom.
Launching Hyundai Click2Drive and opening the new Hyundai Click2Drive Gamboa dealership is the latest achievement in the company's digital strategy to revolutionize traditional car sales. The store is operated by Hyundai dealer Motor Gamboa Group and located in Gran Plaza 2 shopping centre in Majadahonda, Madrid.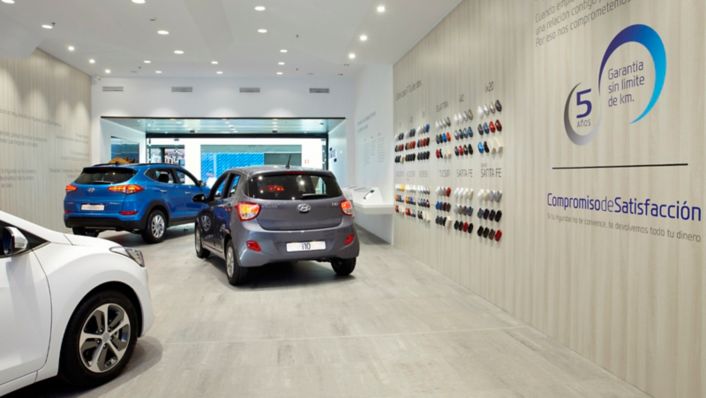 The vehicles are presented without barriers in the shop itself: customers can see them, touch them and even try them out without having to make a commitment. The dealership further offers an end to end online buying process for the first time for the entire Hyundai range. At Hyundai Click2Drive Gamboa you can do everything online: configure the car you want, get a valuation for a used car, and choose your preferred financing option, up until completion of a sale. 
With the Hyundai Click2Drive launch and the opening of Hyundai Click2Drive Gamboa we take another step in responding to changing customer needs in the age of digitalization. This pioneering approach to car sales demonstrates our commitment to innovative customer-centred retailing, creating a very convenient, transparent and flexible purchase process.
The official opening ceremony of the first Hyundai Click2Drive online car dealership was attended by several company executives. Hyundai Motor Company was represented by Mr. Woong Sik Oh, the Global Head of Network Development, while Hyundai Motor Europe was represented by Mr. Yong June Jin, Dealer Network Development Coordinator. They were accompanied by Dong Huwy Park, President and CEO of Hyundai Motor España, and Leopoldo Satrústegui, Managing Director at Hyundai Motor España. José López Gamboa, owner of Motor Gamboa Group, hosted the event and explained how the new business will work.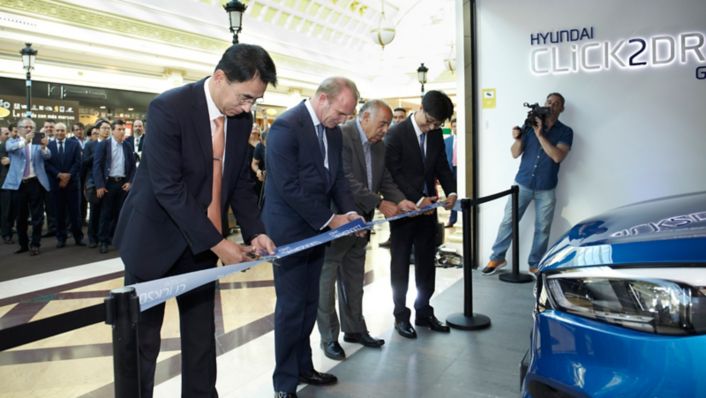 Millions of customers visit shopping centres every day. Since 2014, they can further experience and buy Hyundai cars directly while shopping: Rockar Hyundai, an innovative approach to new car buying, has established two stores in the United Kingdom, where visitors can research, test-drive, part-exchange their old car and purchase a new Hyundai – with cash or various finance packages – all at the click of a mouse or touch of a button.