Hyundai Motor is the official automotive sponsor of the 2018 FIFA World Cup Russia™
Fans will be able to submit individual team slogans, with the best ones defined by popular vote to be featured on each national team bus
Slogan winners will ride in team bus convoy and attend a 2018 FIFA World Cup match
Hyundai Motor Company, South Korea's largest automaker and a proud FIFA Partner, is pleased to announce the launch of the "Be There With Hyundai" slogan competition for 2018 FIFA World Cup Russia™.
Football fans will be invited to submit potential team slogans on FIFA.com for each of the 32 national teams competing in the 2018 FIFA World Cup Russia™. The submission window runs from December 4, 2017 to February 28, 2018. In April, three finalists for each team slogan will be revealed and a fresh round of online voting will kick off to determine the 32 individual winners.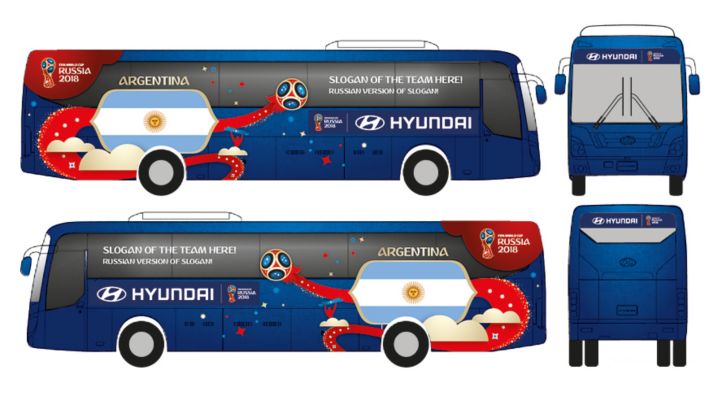 The winning slogans will be prominently featured on each of the 2018 FIFA World Cup™ national team buses used to travel to and from World Cup matches. The fans responsible for creation of the winning slogan of each team will be rewarded with an exclusive Team Bus Convoy vehicle experience. Each winner and guest will travel to Russia, where they will ride in an official Hyundai convoy vehicle accompanying the team bus convoy and watch them compete in a selected 2018 FIFA World Cup™ match.
We are thrilled to invite 32 true football fans as our guests at the 2018 FIFA World Cup Russia™ with this special slogan competition, 'Be There With Hyundai'. As the FIFA World Cup's official automotive sponsor, we are committed to providing fans with unique and memorable experiences like this, just as we are committed to caring for our customers by ensuring special and rewarding Hyundai ownership experiences the world over.
Additional contest details will be made available to football fans via the official website (www.fifa.com/betherewithhyundai).