Skills for the Future addresses skills mismatch in European job market
More than 10,700 students have participated since 2012
Record 5,000 participant target for 2015/2016 academic year
Hyundai Motor Europe and JA Europe are offering more than 5,000 students across Europe the chance to take part in its Skills for the Future initiative for the 2015/2016 school year.
For the fourth consecutive year, Hyundai Motor Europe and JA Europe are partnering to improve the entrepreneurial skills and employability of Europe's young talents by building their competences in Science, Technology, Engineering and Maths (STEM) and awareness around sustainability in the automotive industry and beyond.
The current mismatch between skilled workers and the needs of the European job market is a major challenge for the European economy. A study by the European Centre for the Development of Vocational Training (Cedefop) found that 39% of companies in the EU had difficulties finding staff with the right skills. Furthermore, non-profit organisation Engineering UK assumes that the UK alone has a current engineering skills shortfall of about 55,000 people, underlining that skilled employees are in high demand in Europe.
The Skills for the Future initiative from Hyundai Motor Europe and JA Europe helps to tackle this challenge by upskilling young Europeans before they enter the labour market. With its strong position in European business - building over 500,000 cars and selling them in 31 countries - Hyundai Motor sees a responsibility to help the European economy to remain competitive and innovative.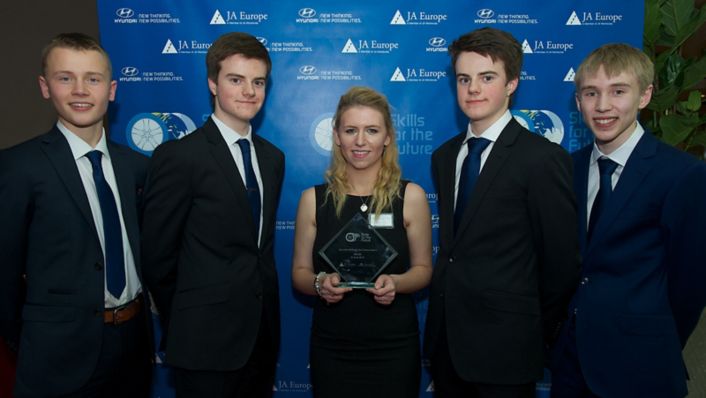 During the year-long programme, students - guided by their teachers and mentored by some 300 Hyundai Motor volunteers - have the opportunity to develop their own enterprise, learn increasingly valued STEM skills and directly apply their business knowledge to the real world. At the end of the current school year, the Hyundai Skills for the Future Award - recognised by the European Commission as good practice in entrepreneurial education - will reward the best sustainable ideas for car services and products.
Through our Skills for the Future programme, we are supporting students with mentoring and insights, focusing particularly on the important field of sustainability. We provide practical, real-world experience, to enhance the opportunity for Europe's young people and to foster an environmentally-conscious mind-set for the next generation of talents.
Last year's winners created SoberDrive, an innovative breathalyser incorporated within a car-key. The young enterprise is currently exploring ways to market its product, cooperating with Hyundai Motor to explore potential routes to market.
During the last three years, Skills for the Future has reached more than 10,700 young people between the ages of 15 and 18 in vocational schools across 15 European countries.