Official handover of 50 Hyundai ix35 Fuel Cell at Linde site for the largest fleet of zero-emission fuel cell vehicles run by a single operator
BeeZero to offer world's first car sharing service exclusively running hydrogen-powered cars, producing no harmful emissions during driving
Hyundai Motor is leading the fuel cell electric vehicle roll-out in Europe and is the only carmaker offering hybrid, plug-in hybrid, electric and fuel cell cars
Hyundai Motor handed over 50 ix35 Fuel Cell electric vehicles to Linde on June 9th, 2016, attended by representatives of Linde, Hyundai Motor Europe and Hyundai Motor Company.
A handover ceremony held in Pullach near Munich laid the foundation for the world's first fuel cell-powered zero-emission car sharing service: BeeZero, to be launched this summer. BeeZero, run by a newly founded Linde subsidiary, synergises two major mobility trends: car sharing and zero emissions. 
BeeZero's pioneering concept and Hyundai Motor's leading role in fuel cell drive technology are a perfect match. Fuel cell technology for zero-emission mobility is ready for everyday life. With today's handover of the world's biggest Fuel Cell fleet to Linde Hydrogen Concepts, we are one step closer to making this sustainable technology available to everyone.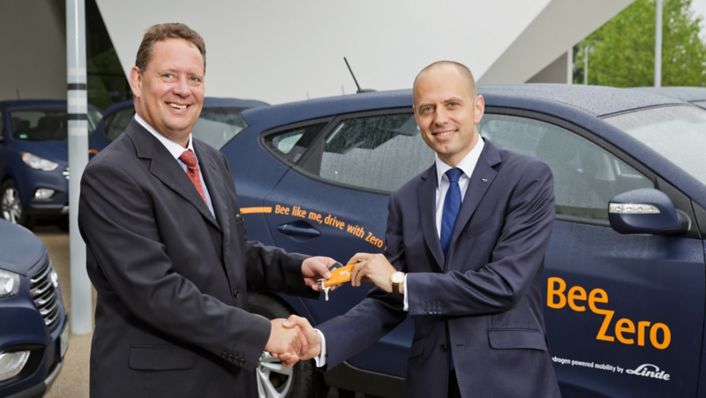 Hydrogen technology can be a substantial part of future mobility. Together with our customers, we want to gain practical insights in day-to-day operations and jointly build this future. We expect BeeZero to stimulate both the further development of our hydrogen technologies as well as a hydrogen infrastructure build-up.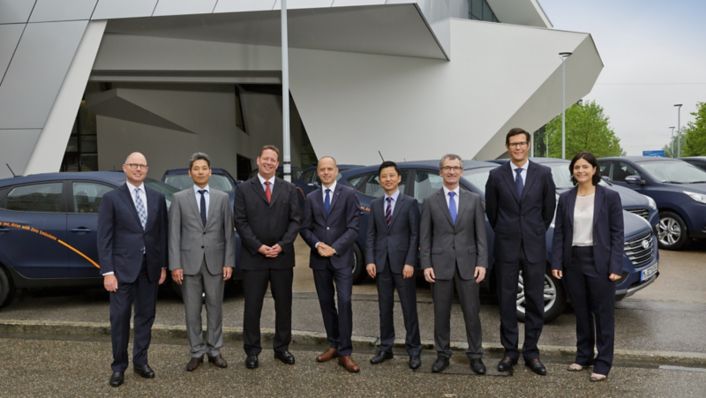 600 kilometres on a single tank

The BeeZero car sharing service will be run on a zone-based model. The 50 ix35 Fuel Cell cars will be available in Munich's city centre and also in the neighbourhoods of Schwabing, Haidhausen, Au and Glockenbachviertel. As with conventional car sharing services, the cars can be easily booked online or via a smartphone app.
The Hyundai ix35 Fuel Cell can travel up to 600 kilometres on a single tank, making it ideal for longer journeys, for example to one of the Bavarian lakes or the mountains. Hydrogen fuel for BeeZero is sourced entirely from sustainable production processes.
A leader in electric mobility

The ix35 Fuel Cell is the world's first mass-produced and commercially available fuel cell electric vehicle (FCEV). There are currently 300 Hyundai ix35 Fuel Cell SUVs on European roads in 12 countries. That is more than all FCEVs from every other manufacturer combined. And with the IONIQ, to be launched this year, Hyundai introduces the world's first car to offer hybrid, plug-in hybrid and all-electric powertrains in a single body type.
Hydrogen For Innovative Vehicles Project (HyFIVE)

The ix35 Fuel Cell deployed are partially funded by the HyFIVE Vehicles Project. HyFIVE is funded by The Fuel Cells and Hydrogen Joint Undertaking (FCH JU), a public private partnership supporting research, technological development and demonstration (RTD) activities in fuel cell and hydrogen energy technologies in Europe.