Hyundai Kona Electric wins Affordable Electric Car of the Year and IONIQ Plug-In claims Affordable Hybrid Car of the Year at Auto Express New Car Awards 2018
Hyundai's first performance model – the i30 N – is highly commended in the Hot Hatch category
Hyundai models shortlisted in six 2018 award categories – Kona Electric, IONIQ Plug-In, Kona, i10, IONIQ Hybrid and i30 N
Hyundai Motor is one of the only manufacturers to offer customers a complete range of eco-technologies and powertrains from hybrid and plug-in hybrid to fully-electric and hydrogen fuel cell 
Hyundai claimed a double victory at the Auto Express New Car Awards 2018, winning Affordable Electric Car of the Year for the new Kona Electric and Affordable Hybrid Car of the Year.
The All-New Hyundai Kona Electric fought off competition from the Nissan Leaf and Volkswagen e-Golf and was commended by the judges for its long range of 480 kilometres on a single charge and its affordable price.
Launching a fully-electric SUV means Hyundai has tapped into two of the fastest-growing parts of the market. The Kona Electric has a 480-kilometre range, so it can go further on a single charge than some of its closest rivals. Add an affordable price tag and it shows that genuinely mainstream electric cars are now viable. The Kona Electric is an outstanding package, which is why we've named it Affordable Electric Car of the Year 2018.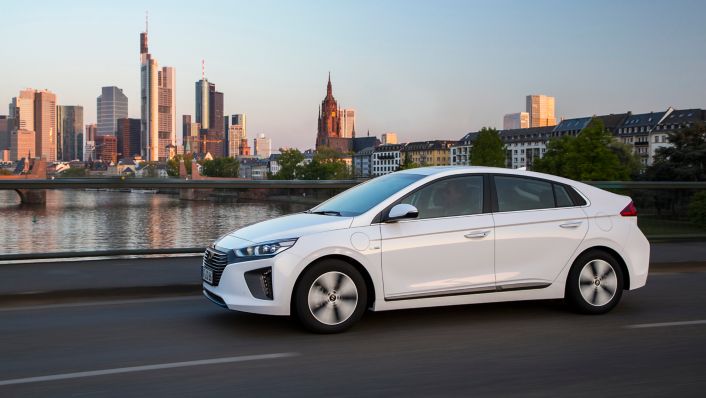 IONIQ Plug-In outshone other hybrids including the Toyota Prius in the Affordable Hybrid category, impressing with its efficiency, comfort and technology.
Our time in the real world with an Hyundai IONIQ PHEV revealed it to be a very efficient car indeed, averaging more than 80mpg almost effortlessly over 6,400 kilometres. CO2 emissions of 26g/km bolster the IONIQ PHEV's green credentials. And yet it's still a spacious, comfortable, well-equipped hatchback – and a deserved winner of our Affordable Hybrid Car of the Year 2018 award.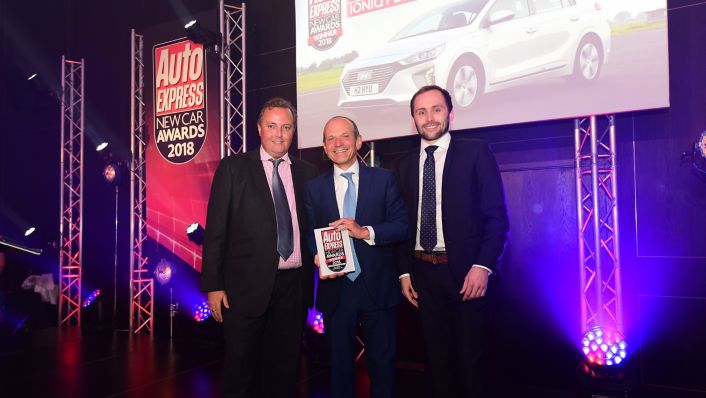 Alongside the wins, Hyundai models were shortlisted in six of the New Car categories and the much-lauded i30 N was Highly Commended in the Hot Hatch category.
These two prestigious Auto Express Awards for our All-New Kona Electric and the IONIQ Plug-In demonstrate that our electrification strategy is already paying off. Hyundai has already brought a wide range of alternative-powered cars to the roads, giving customers the freedom to choose the best solution for their needs. And there is more to come, with 18 electrified models in our plan by 2025 globally. While some manufacturers only make electric concept cars, Hyundai is winning awards for real production models!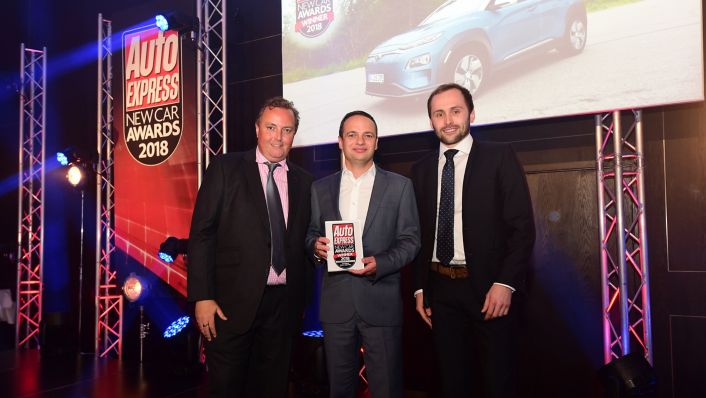 The New Car Awards celebrate the best new cars on sale, voted for by the expert reviewers at Auto Express.