Three Hyundai N models successfully completed the 24 Hours Race proving vehicles' ability for consistent and outstanding performance 
Hyundai i30 N TCR, Veloster N TCR, and i30 Fastback N each placed 45th, 94th, and 97th in the race with 155 participants 
i30 N TCR also shows racing capability at fifth round of WTCR with participating teams' win in Race 1, and a third place in Race 2
A glorious return to the roots of the Hyundai N brand through '24 Hours of Hyundai N Experience' hospitality event with the concept of 'N Homecoming'
Hyundai Motor featured its full line-up of high performance vehicles at the Nürburgring 24 Hours race.
Coming back for the 4th consecutive year since 2016, Hyundai Motor once again secured its place as a leading performance vehicle brand with the participation of the company's high performance N brand.
The Nürburgring 24 Hours Race took place in Nürburg, Germany, from 22-23 June, in which Hyundai featured its lineup of performance vehicles including the i30 N TCR, Veloster N TCR and i30 Fastback N. The Nürburgring circuit is a grueling 25-km course consisting of 73 corners, tight roads, various elevation, and sharp turns. The race record is calculated based on travel distance over 24 hours, which puts each competitor's drive performance and durability through the ultimate test.
Over the two-day period, the three Hyundai N vehicles showcased the company's capabilities in performance driving.
The Veloster N TCR placed 2nd place and 45th place each in its class and in overall ranking. The i30 N TCR placed 3rd place and 94th place in its class and the overall race respectively. The driving performance of the vehicle was spot on at the Nürburgring circuit, showing its remarkable durability in the TCR class.
In the V2T class, the i30 Fastback N, entered to highlight Hyundai's development of the class, ranking 97th place overall, further accentuated the company's outstanding race track capability with all vehicles successfully completing gruelling 24 Hours Race.
Hyundai Motor's outstanding performance in the Nürburgring 24 Hours Race proves the company's performance vehicle capability. We hope to bring this experience straight to the every-day driver, to share the excitement, through the N brand.
Hyundai began its journey at the Nürburgring 24 Hours Race in 2016 with the Hyundai i30 2.0 Turbo development car, placing 90th. In just one year, Hyundai began closing the gap between its competition when the Hyundai i30 N came in 50th in 2017. Last year, two i30 N TCR vehicles finished at 35th and 58th, displaying constant improvement in the high-performance sector. With its excellent performance in 2019, Hyundai Motor consistently showed off improvements in driving capability and vehicular durability, which the company aims to apply to its passenger vehicles.
Aside from Nürburgring 24 Hours Race, Hyundai Motor also demonstrated a strong performance at the fifth round of WTCR, FIA World Touring Car Cup in which the BRC racing teams scored a race win and a third place podium finish.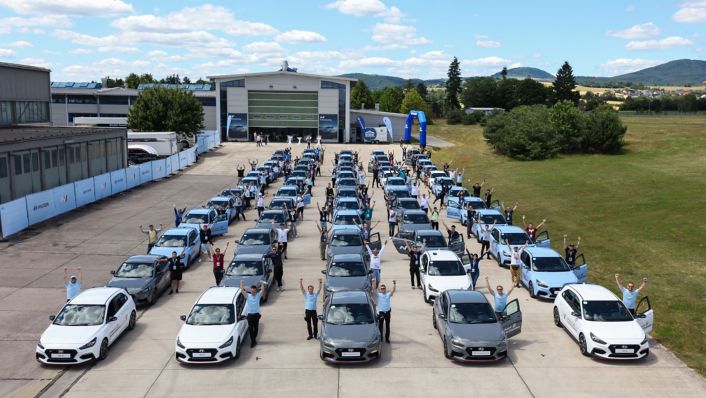 BRC Hyundai N Squadra Corse driver Norbert Michelisz dominated Race 1 on Friday at the Nürburgring to take his first victory of the season. BRC Hyundai N LUKOIL Racing Team driver Augusto Farfus finished in third in Saturday's Race 2. With the outcome from fifth round, BRC Hyundai N Squadra Corse and BRC Hyundai N LUKOIL Racing Team were positioned second and fourth in the overall team ranking, respectively.
While demonstrating strong racing capabilities, Hyundai Motor also highlighted the 'N' brand's presence by providing a hospitality event to global 300 N guests with an exclusive N experience. Under the name '24 Hours of Hyundai N Experience' with the concept of 'N Homecoming', Hyundai celebrated N brand's return to the root of its name 'N', derived from Namyang, Hyundai's global R&D center, and Nürburgring, home to the Hyundai Motor European Test Center. The hospitality experience included a driving academy with various Hyundai N models, a helicopter tour, a backstage tour, and a celebration BBQ dinner.