Hyundai Motor collaborates with IED to illustrate design in the 'Energy Zone by Hyundai' at Milan Design Week.
The progressive subcompact SUV All-New Kona and the fully-electric version Kona Electric are on display along with the Hyundai Kite dune buggy concept.
Light installation with Kona Electric in the 'Energy Zone by Hyundai' on April 17 and 18.
Hyundai Motor is presenting its successful SUV models the All-New Kona and the Kona Electric as well as the Kite concept car at the Milan Design Week from 17 to 22 April.
In collaboration with the Instituto Europeo di Design (IED), Hyundai is showcasing design with an installation made of energy and light. The 'Energy Zone by Hyundai' is a space in which the experiential journey created by artist Carlo Bernardini invites the visitor to discover the energy of the models on display. With the Kona Electric, Hyundai offers the first all-electric subcompact SUV on the European market. The Hyundai Kite is an electric dune buggy concept made by students of the Turin-based IED's master's degree course in transportation design with the support of Hyundai Design Centre Europe in Rüsselsheim, Germany.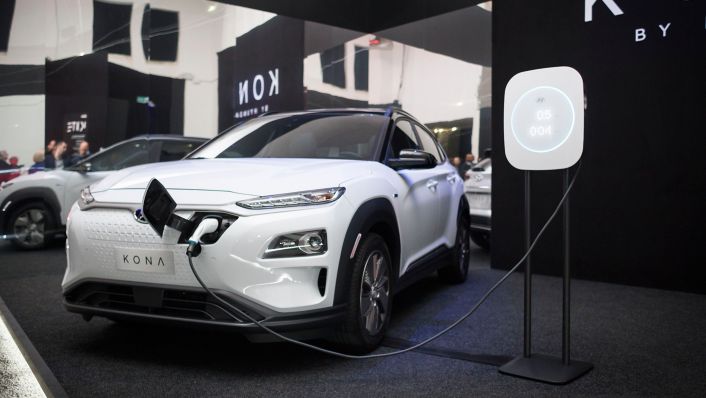 Walking through the light installation in the 'Energy Zone by Hyundai', visitors will be brought into a dimension permeated by pure energy. This shows itself in geometries and perspective games produced by luminous optical fibres in the dark. In Bernardini's works, light is mediated by the use of optical fibre, which the artist has used since 1996 and with which he creates sensational effects of geometries and spaces. The spectator finds himself inside the installation with the impression of being in front of a different artwork at each point of observation.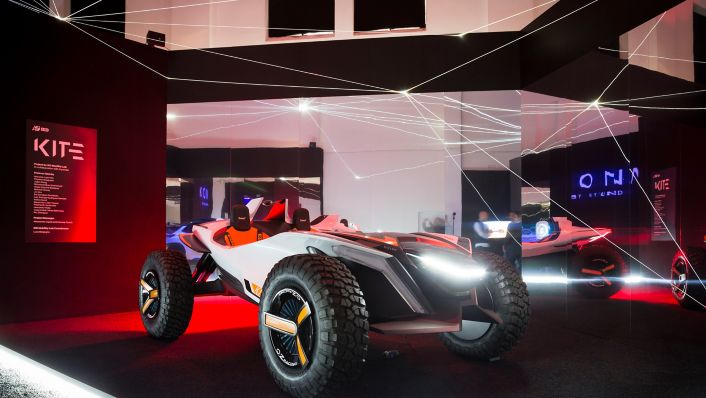 The Kona Electric will be part of the installation on April 17 and 18. The first all-electric subcompact SUV is a car of no compromise, combining Hyundai's progressive SUV style with a zero-emission electric powertrain. The new eco-car is available with two different powertrains, offering an outstanding driving range of up to 482 kilometres*. The electric motor of the long-range version delivers an output of 150 kW/204 PS, accelerating the car to 100 km/h in 7.6 seconds. Hyundai Motor is at the forefront of eco-mobility by already offering the broadest range of electrified powertrains of any carmaker on the European market.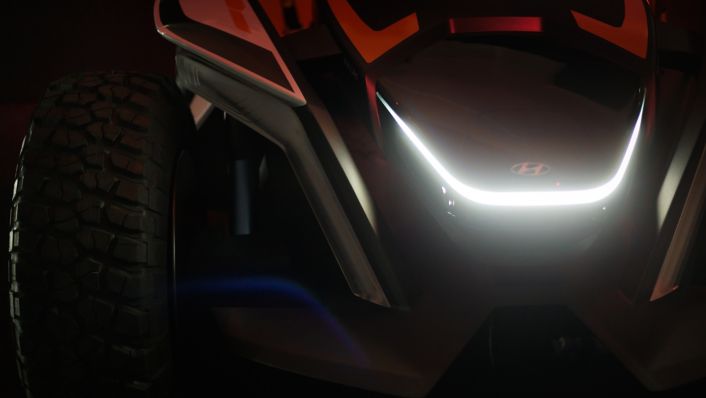 The Hyundai Kite concept also carries a progressive character and bold energy, committed to fun and created by the students of the IED's master's degree course in transportation design in collaboration with Hyundai Design Centre Europe. The Kite is a futuristic two-seater electric dune buggy that transforms into a single-seater jet ski. The concept is a doorless, roofless and windowless vehicle that can drive both on the road and over water. Its surfaces interlace, creating a continuum of twists and intersections.
#ENERGYZONE BY HYUNDAI in collaboration with IED
Where: Opificio31, via Tortona 31, Milan, Italy Opening hours: 10 a.m. to 9 p.m. – Tuesday 17th to Sunday 22nd, April 2018