PassoCorto sports coupe concept showcased at IED Milan Campus
Hyundai Motor hosts roundtable discussion to inspire future design talents
Activities support company's ongoing commitment to Europe's young people
Hyundai Motor is supporting future design talent at Europe's most vibrant festival of design and creativity, the 2014 Milan Design Week (8-13 April).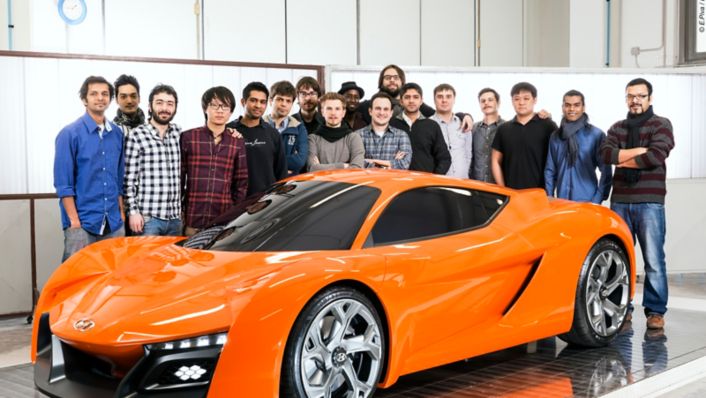 The PassoCorto, which was revealed last month at the Geneva Motor Show, will be showcased at the IED Milan Campus facility throughout Milan Design Week. Commissioned by Hyundai, the ultra-lightweight sports car concept was created by a team of 16 students at IED in Turin and is designed to appeal especially to Generation Y consumers. The dramatic, compact PassoCorto – Italian for 'short wheelbase' – is a mid-engined two-seater coupe with a compact length of 4100 mm and weight of just 840 kg.
On Thursday 10 April, the IED Milan Campus will host a special presentation and roundtable discussion, open to the public, on the theme 'Young. Creative. Work.' Luca Borgogno, Senior Designer Pininfarina and Head of IED Turin Transportation Design, and Nicola Danza, Exterior Design Manager at Hyundai Design Centre Europe, will present PassoCorto and tell of their personal routes from aspiring young car design students to senior automotive professionals.
Over the past decade, Milan Design Week's FuoriSalone, a collection of 'fringe' events, has achieved ever-greater popularity with the public. This year, more than 950 free public events are expected to be held at design studios, universities and art galleries around the city, attracting almost one million visitors.
Since 2011, Hyundai Motor has been the headline sponsor of the festival's dedicated website, www.fuorisalone.it. The online and mobile information portal, 'powered by Hyundai', is the key reference source for local and international visitors during
Design Week.
Since 2012, Hyundai Motor is also involved in the Skills for the Future and Brilliant Young Entrepreneurs programmes that support Europe's youth. Skills for the Future aims to bridge the skills gap between education and the demands of the job market, while Brilliant Young Entrepreneurs programme helps students turn their business dreams into reality by providing financial and mentoring support.