Hyundai Motor's independently-developed ccOS (connected car Operating System) will bring advanced integrated technologies to customers
Powerful ccOS software platform will provide security and data management for a multitude of connected car services
Hyundai Motor plans to connect cars to customer's lives with the launch of a 'Hyper-connected Intelligent Car' in 2020
Hyundai Motor is accelerating development of its advanced ccOS (connected car Operating System), the core platform technology for its future connected cars.
The highly sophisticated software will optimize the high-speed transmission and reception of data within the vehicle to support increasingly complex features that will lead the connected car market.
Installed at the heart of the vehicle, ccOS will control and operate the key aspects of connected car infrastructure; In-Vehicle Framework, Infotainment Framework and Connectivity Framework, to ensure connected cars can adapt to new innovations in safety, comfort, convenience and security.
Earlier this year, Hyundai Motor established Infotainment Software Development Team in its Namyang Research and Development Center dedicated solely to develop its ccOS technologies. This enabled the company to drive forward its 'Car to Life' vision, to deliver a hub of infinite knowledge that makes the car integral to the daily life of the user.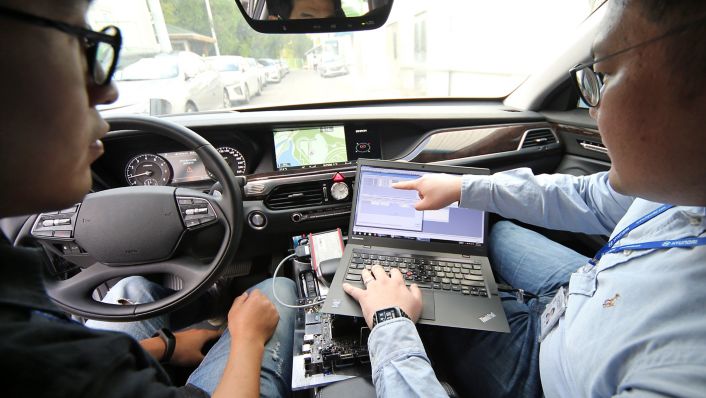 Hyundai Motor's strategy to develop its own platform optimized for connected car operation is centered on advancing how vehicles communicate with their internal and external environments. Hyundai Motor will also work on other connected car technologies and related services such as smartphone and smart home connected services, intelligent remote support, fully autonomous driving, smart traffic functionality and mobility hubs.
The first ccOS-installed vehicles are set to be available in 2020 under the concept 'Hyper-connected Intelligent Car', after conducting substantial simulation tests to ensure compatibility. As for the new ccOS-installed concept vehicle, Hyundai Motor is to explore a variety of applicable connected car services such as OTA (Over-The-Air) software update with which customers can wirelessly update their vehicle's infotainment system, without the need to visit a service center in person. Advancing its 'Open Innovation' plan, Hyundai Motor and Cisco are working to develop car network technology, another core platform requirement to enable the rapid development of connected cars.
Hyundai Motor has also opened a new Big Data Center in China to reinforce its venture toward connected car development. This series of advances boost Hyundai Motor's efforts to lead the connected car market in the fields of designated vehicle networks, cloud and big data technologies with the ultimate aim of enhancing its customers' lives.