Hyundai owners in America now have the convenience of locking, unlocking and remote starting their vehicles from the comfort of their couch, kitchen or bedroom using voice commands. The new Blue Link skill for Amazon Alexa is available across Alexa-enabled devices and Hyundai vehicles equipped with the second generation of Blue Link.
Hyundai Motor becomes the first volume automaker to connect cars with homes using Amazon Echo and its new Blue Link® skill for Amazon Alexa.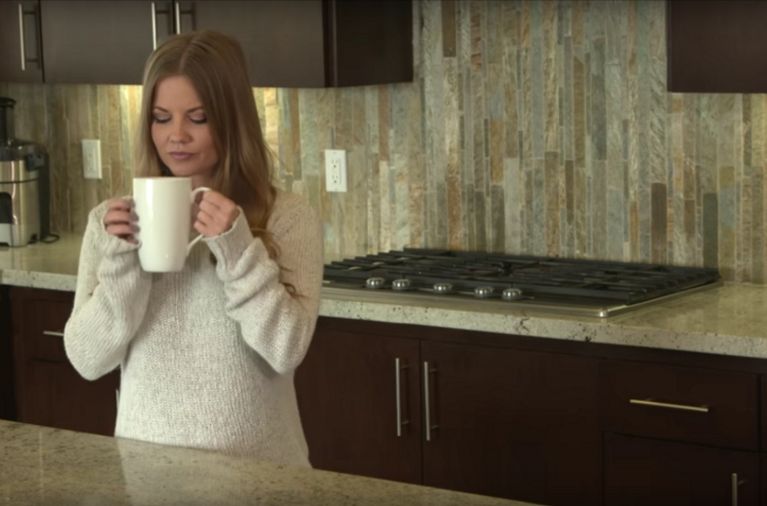 Our customers increasingly want more ways to interact with their vehicles, especially when they are hustling to get out the door. Linking smart devices like the Amazon Echo and Apple Watch to vehicles via Blue Link continues to fill that desire. Allowing consumers to send commands to their car is just the beginning.
Adding even more convenience to the ownership experience, owners of the all-new Hyundai IONIQ Electric and Plug-in Electric vehicles in America are able to start and stop the charge of their cars with the ease of simple voice commands with the Blue Link skill. Hyundai owners can request various functions of their car including:
Remote start and stop charging of the Hyundai IONIQ Electric, IONIQ Plug-in and Sonata Plug-in
Remote engine start with climate control across all supported Hyundai models
Remote door lock/unlock across all Hyundai models
Remote horn/lights across all Hyundai models equipped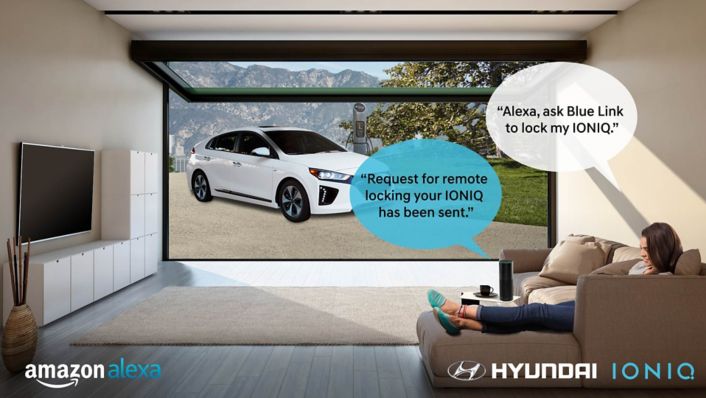 At home, a Hyundai owner can experience interactions like these:
Owner: "Alexa, ask Blue Link to start charging my IONIQ."
Alexa: "Request for remote charging your IONIQ has been sent."
Owner: "Alexa, tell Blue Link to start my car at 80 degrees."
Alexa: "Request for remote starting your car with climate control has been sent."
Owner: "Alexa, ask Blue Link to lock my Santa Fe."
Alexa: "Request for remote locking your Santa Fe has been sent."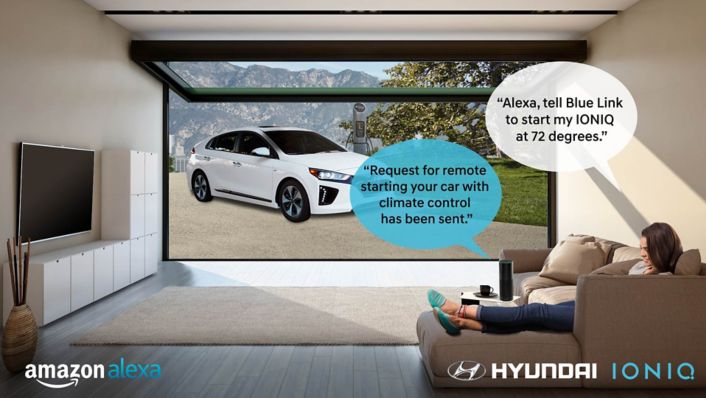 Blue Link brings seamless connectivity directly into the car with technology like Remote Start with Climate Control, Destination Search powered by Google®, Remote Door Lock/Unlock, Car Finder, Enhanced Roadside Assistance, and Stolen Vehicle Recovery. Blue Link can be easily accessed from the buttons on the rearview mirror, the web, or via smartphone app. In addition to the new Blue Link skill, some of these features can be controlled via the latest Android Wear™ and Apple Watch™ smartwatch offerings.
We're excited to work with Hyundai to expand their Blue Link skill for Amazon Alexa to more cars with Blue Link. Being able to complete simple tasks like locking your car doors, set your car temperature, and more—all with just using your voice from inside the comfort of your home—is a magical experience. We can't wait for Alexa and Blue Link customers to try out this new skill.
The Blue Link skill for Amazon Alexa is compatible with second generation Blue Link equipped vehicles. These vehicles include:
All 2017 model Blue Link equipped vehicles
The following 2016 model vehicles: Genesis, Azera, Tucson, Sonata (SE, Sport Limited, Sport 2.0T, Limited 2.0T, Eco 1.6T), Sonata Hybrid (Limited Ultimate package), Veloster (Tech package), Elantra GT (Tech package)
The following 2015MY vehicles: Genesis, Sonata, Azera.
How It Works
To send commands to Hyundai vehicles via Alexa, users must enable the Blue Link skill in their Alexa app available on iOS, Android and Fire tablets, and then link their existing Blue Link account within the Alexa app. Voice commands will only be sent to Hyundai vehicles after Alexa prompts owners for their Blue Link Personal Identification Number (PIN).
Please note this feature is not available Europe.