The Hyundai Engineering Team explored the limits of the IONIQ's Eco-performance, applying nitrous-oxide and special aerodynamics for the record-breaking drive at at Utah's renowned Bonneville Salt Flats. The Federation Internationale de l'Automobile (FIA) approved the New Production-based Hybrid Category Record.
A race-prepared Hyundai IONIQ Hybrid prototype, developed by Hyundai Motor America's Engineering and Quality team, set an FIA-approved production-based hybrid vehicle land speed record of 157.825 mph.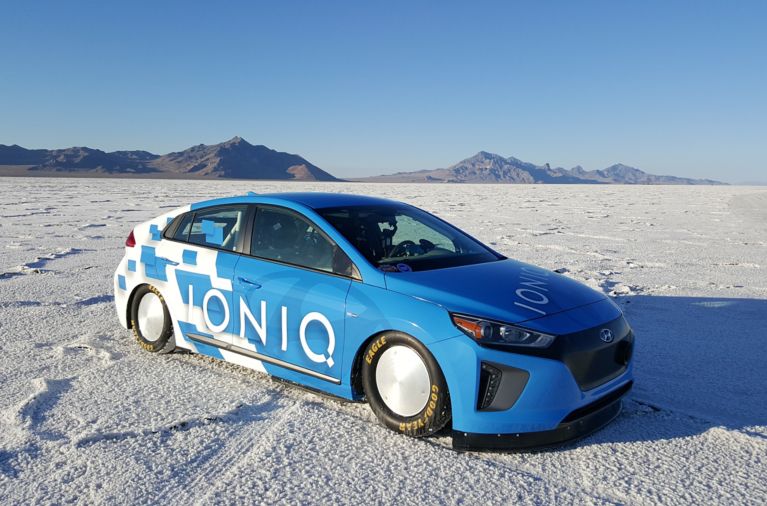 Hyundai Motor America's engineering and quality group led the concept development for this grassroots motorsports effort. The development team made a number of special modifications to the Ioniq hybrid prototype to break the hybrid record, including:
Powertrain
Low-restriction intake and exhaust systems with retained catalyst
Engine, transmission, and hybrid ECU recalibrated and governors removed
Air conditioning and ancillary accessories removed
Nitrous Express single-stage direct-port nitrous injection with stand-alone fuel system, cockpit-controlled
Aerodynamics/Lightweighting
Ioniq Electric model front grille and valance integration
Underbody and air dam aerodynamic modifications
Interior components removed or lightened
Suspension
Progress Competition coil-over suspension with optimized spring, damping and sway bar rates and ride height lowered 100mm
Lightweight aero wheels and wheel covers with Goodyear® Eagle tires
Safety
Fully-integrated high-strength safety cage structure (Bisimoto-designed)
Sparco® 6-point safety harness system, racing seat, and driver safety gear
On-board fire-suppression system, battery disconnects and parachute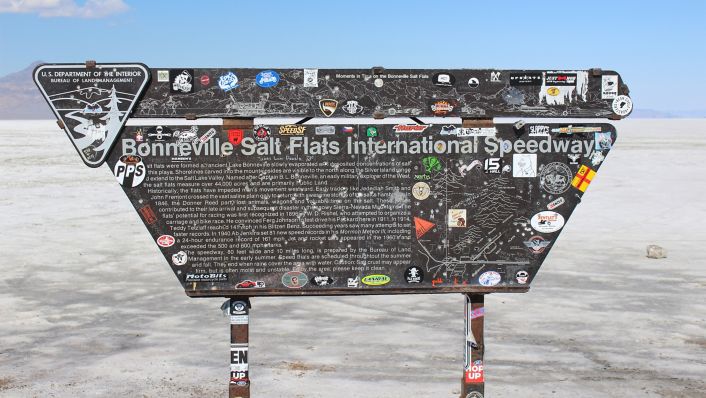 Bonneville Salt Flats

The Bonneville Salt Flats is a densely packed salt pan in Tooele County of northwestern Utah. The area is a remnant of the Pleistocene Lake Bonneville and is the largest of many salt flats located west of the Great Salt Lake. The property is public known for land speed records at the "Bonneville Speedway". Access is free and visitors can drive on the flats.

Fédération Internationale de l'Automobile (FIA)

The Fédération Internationale de l'Automobile or International Automobile Federation) is an association established in 1904 to represent the interests of motoring organizations and motorists alike. To the general public, the FIA is mostly known as the governing body for many auto racing events. The FIA also promotes road safety around the world. Its most prominent role is in the licensing and arbitration of Formula One and World Rally Championship motor racing. The FIA also certifies land speed record attempts.