Hyundai Motor has announced that it will extend its pan-European partnership with Swiss environmentalist Bertrand Piccard for 18 more months
Piccard will swap his KONA Electric for the multi-award-winning IONIQ 5
Through the partnership, Piccard has continued to advocate for electric mobility solutions on Hyundai's behalf
Piccard is the initiator of the Solar Impulse Foundation, a non-profit that identifies sustainable and profitable business solutions
Piccard was featured on Hyundai's podcast, Are We There Yet?, as an expert on clean mobility and sustainable mobility solutions
Hyundai Motor has announced that its pan-European partnership with Swiss explorer and environmentalist Bertrand Piccard will be extended for an additional 18 months. Piccard has been the brand ambassador for Hyundai Motor Europe since the middle of 2020. Before this current partnership, Piccard had served as the brand ambassador for Hyundai Motor France.
As part of the partnership, Piccard has been driving around in the KONA Electric. One of Hyundai's more popular electric vehicles, sales of the fully electric subcompact SUV have exceeded 108,000 units in Europe alone.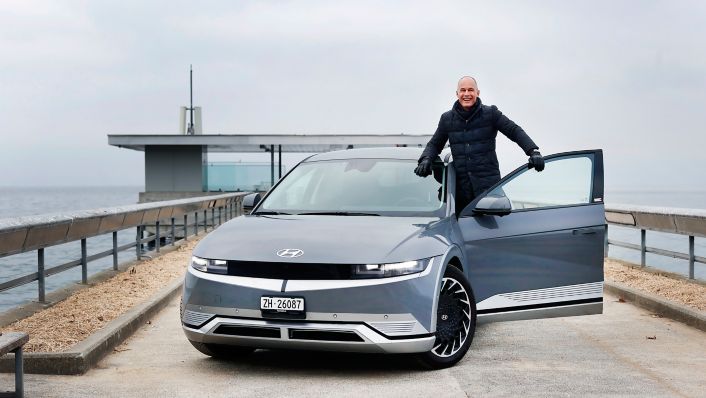 For the extension of the partnership, Piccard will continue his journey in the award-winning IONIQ 5, which was recently named the "2022 Swiss Car of the Year". The fully electric midsize CUV is not only the first model of IONIQ, Hyundai's dedicated BEV line-up brand, but it is also the first Hyundai model to feature Hyundai Motor Group's Electric Global Modular Platform (E-GMP). IONIQ 5 also features eco-friendly materials in its interior, ultra-fast 800V charging, Vehicle to Load (V2L) bi-directional charging capabilities, and a driving range of up to 481 kilometres, according to WLTP.
Bertrand Piccard and Hyundai Motor share a pioneering spirit that fuels our commitment to the mobility revolution. Together with Bertrand Piccard, with whom we have extended our partnership for another 18 months, Hyundai will play a major role in shaping a world marked by clean mobility. This partnership will continue to spark change not just throughout Europe but across the world.
Partnering with a pioneer
As a scientist, psychiatrist, aeronaut, inventor, and explorer, Bertrand Piccard is pioneering innovative mobility solutions. To promote sustainable solutions to today's challenges, he initiated the environmental non-profit Solar Impulse Foundation. Through this institution, Piccard has identified more than 1,000 solutions to foster clean and economic growth while addressing sustainability challenges.
I am a firm believer in clean mobility solutions, and Hyundai is leading the automotive industry when it comes to electrification. I am excited to continue my partnership with Hyundai to promote battery- and hydrogen-powered cars. In IONIQ 5, Hyundai has developed a real game-changer of a model. I'm looking forward to the exciting activations we have planned as we continue to spread the company's future mobility message.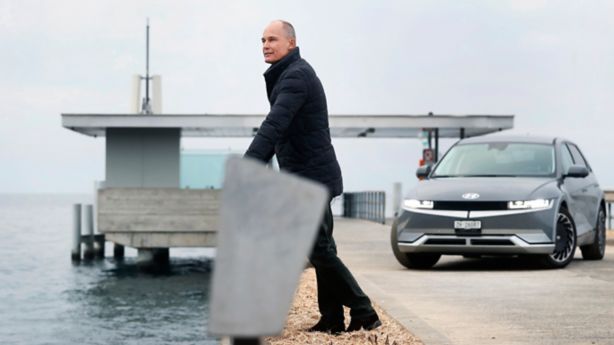 Looking back at a shared vision
Piccard was selected as a brand ambassador for Hyundai Motor Europe because he and the company share an innovative spirit as well as a vision for electric mobility and a sustainable future. So far during the partnership, he has worked with Hyundai on a variety of projects related to zero-emission mobility.
Sharing his expertise on sustainability, Piccard was a guest on Hyundai's biweekly podcast, Are We There Yet?. On the tenth episode of season one, he joined host Suzi Perry to discuss clean mobility and how Hyundai has been investing in zero-emission technologies.
In A Better Way, a three-part original series of documentary shorts, Piccard took viewers on a tour of Europe's most influential locations for zero-emission mobility. For this endeavour, Hyundai collaborated with Discovery to present this topic to a global audience.
Piccard spoke about Hyundai's commitment to sustainable mobility at a roundtable discussion at EVER Monaco 2021, where Hyundai also presented IONIQ 5. On top of this, he presented his Solar Impulse Foundation's efficient business solutions that protect the environment.
In June, Piccard met with two ambassadors from the diver safety non-profit Divers Alert Network (DAN) Europe at the Solar Impulse Foundation in Switzerland, where they talked about profitable and sustainable solutions that businesses can employ. This meeting was part of the DAN Europe Sustainable Tour 2021, for which Hyundai delivered on its vision for Progress for Humanity by providing the ambassadors with a KONA Electric.
At the SHIFT Mobility Convention in 2020, Piccard participated in a panel discussion, which Hyundai organised, on a multitude of topics surrounding hydrogen fuel cell mobility. Among the knowledgeable panellists were experts from Hydrogen Europe, Alpiq, and Hydrogenious.
Piccard joined Hyundai representatives as an event speaker at GREENTECH FESTIVAL 2020, where Hyundai promoted its strategy for zero-emission mobility solutions. Inspiring thought leaders, including Piccard, also converged at Switch Green, an exclusive format presenting solutions for the planet. There, he, as Chairman of the Solar Impulse Foundation, highlighted the importance of sustainable ecological cases that also economically benefit businesses.
Disclaimer: CO2 and emissions data
Electricity consumption combined for the Hyundai KONA Electric 39.2 kWh in kWh/100 km: 14.3; CO2 emissions combined in g/km: 0 (WLTP)
Electricity consumption combined for the Hyundai KONA Electric 64 kWh in kWh/100 km: 14.7; CO2 emissions combined in g/km: 0 (WLTP)
Electricity consumption combined for the Hyundai IONIQ 5 58 kWh with 2WD in kWh/100 km: 16.7; CO2 emissions combined in g/km: 0 (WLTP)
Electricity consumption combined for the Hyundai IONIQ 5 58 kWh with 4WD in kWh/100 km: 18.1; CO2 emissions combined in g/km: 0 (WLTP)
Electricity consumption combined for the Hyundai IONIQ 5 72.6 kWh (19" alloy rims) with 2WD in kWh/100 km: 16.8; CO2 emissions combined in g/km: 0 (WLTP)
Electricity consumption combined for the Hyundai IONIQ 5 72.6 kWh (20" alloy rims) with 2WD in kWh/100 km: 17.9; CO2 emissions combined in g/km: 0 (WLTP)
Electricity consumption combined for the Hyundai IONIQ 5 72.6 kWh (19" alloy rims) with 4WD in kWh/100 km: 17.7; CO2 emissions combined in g/km: 0 (WLTP)
Electricity consumption combined for the Hyundai IONIQ 5 72.6 kWh (20" alloy rims) with 4WD in kWh/100 km: 19.0; CO2 emissions combined in g/km: 0 (WLTP)