'Cross' wins Hyundai Motor's second 'Skills for the Future' award
2014 competition contested by 15 finalists from seven countries
Skills for the Future aims to close the gap between education and business
The winner of the 2014 Hyundai Motor Europe 'Skills for the Future' competition has been announced during an event at the company's European headquarters in Offenbach, Germany.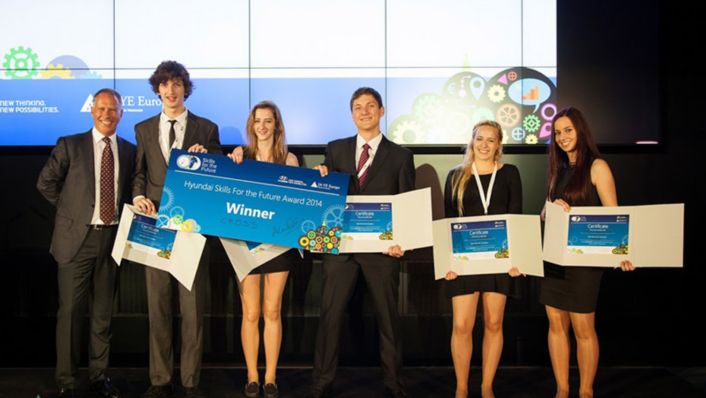 The winning team, called 'Cross' from Slovakia, developed, marketed and sold a new mobile application called 'Careful Eye'. Using wireless technology without the need for an Internet connection, the Careful Eye app allows adult drivers to safely and directly communicate with children travelling in the rear of their vehicle. A video from Cross explaining their product is available online.
The winner was one of 15 finalists from seven countries, all created by and employing young entrepreneurs. Each team won a national competition for a chance to compete at the European final.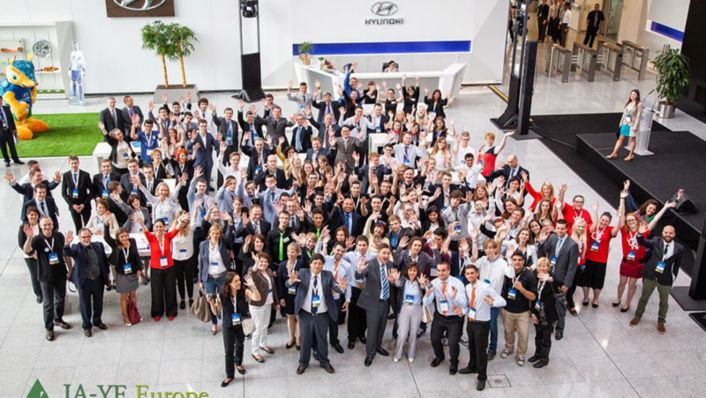 Assessing the 15 aspiring companies, the competition judges considered four main criteria: Performance (the ability to be profitable and secure long-term growth), Product (the creation of realistic products or services for the automotive industry), Innovation (demonstrating inventiveness and sustainability) and Teamwork (how the team works together and presents their company).
Allan Rushforth, Senior Vice President and COO of Hyundai Motor Europe, who headed the judging panel, commented: "The team behind Cross showed passion and insight to develop a very relevant safety product for the automotive market, and the judges were extremely impressed with their professionalism and business case. I'm very proud Hyundai could provide mentoring support to help realise their dream.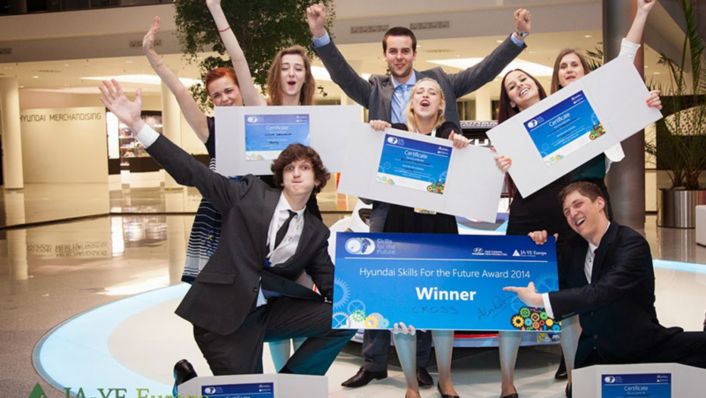 "We are committed to helping drive economic growth in Europe, and by investing in the business leaders of tomorrow we are contributing to a more prosperous future. Our education and mentoring initiatives will help tackle the skills gap in Europe's job market, inspiring the next generation of entrepreneurs and providing them with a valuable platform for business success."
Latest statistics reveal youth unemployment in Europe is at a record high, with 5,5 million young people (23% of the demographic) out of work.
The Skills for the Future programme, a joint-initiative between Hyundai and Junior Achievement-Young Enterprise (JA-YE) Europe, empowers young people with a greater understanding and awareness of the skills required to succeed. During the three-year initiative, the programme aims to reach 10.000 students in 15 countries, working with 400 Hyundai volunteers.
In addition to Allan Rushforth, the six-strong judging panel comprised of Simone Baldassarri (Director General, European Commission Enterprise and Industry), Diana Filip (Deputy CEO, JA-YE Europe), Chas Hallett (Brand Editor of Autocar magazine), Ernst Kopp (Workshop Manager, Hyundai Motorsport) and David Labrosse (Head of Product Planning, Hyundai Motor Europe Technical Centre).