Pan-European activation forms part of Hyundai's season-long For the Fans campaign, putting football fans at the heart of all activity
Fans across Hyundai partner clubs encouraged to submit personal stories that highlight the strength of their support for their team
Monthly winners across Europe will be rewarded with range of club prizes to celebrate their dedication
Hyundai Motor has today announced a new fan promotion, 'The Extra Mile'.
The new fan promotion, 'The Extra Mile', will see football fans from across Hyundai's European club partners encouraged to submit stories explaining the lengths that they go to when following their favourite team.
The Extra Mile is the first major activity of Hyundai's season-long For the Fans campaign, which puts supporters at the heart of all activity and brings fans closer to the game both physically and emotionally. The campaign follows the recent announcements of club football partnerships across Europe, which were launched alongside a series of videos that put fans centre stage and positioned them as the heroes.
Over the course of the 2018/19 season, fans of AS Roma, Atlético de Madrid, Chelsea FC and Hertha BSC can share their best tales of how theyhave gone the extra mile. Monthly winners will be rewarded with club prizes, ranging from match tickets to club merchandise. At the end of the current season, one overall winner from each of the four clubs will be selected to join a special VIP trip incorporating matches at all four partner clubs combined with Hyundai experiences.
Whether travelling across Europe to attend the biggest game of the season, or getting up in the middle of night to follow your favourite team on the other side of the world, The Extra Mile will identify and celebrate those stories that visibly demonstrate fans' passion and outstanding dedication in support of their club.
To mark the launch of the campaign, a selection of 'hero' fans from across Hyundai's partner clubs were identified to highlight their own incredible anecdotes of extreme loyalty and fan devotion. From the AS Roma fan who makes a 400km round-trip each week to watch his team, to the 70-year-old Madridista who has left carnations at the corner flag every home game for the past 20 years; the stories bring to life the amazing affinity that fans of Hyundai's partner clubs have with their teams.
The Extra Mile is open to fans of Hyundai's new partner clubs, who can find out more at http://www.hyundai.com/eu/en/Experience/SponsorshipActivity/OurEuropeanClubs/index.html and submit their entries in text/image/video format via a dedicated website or social media page, where they can also view the club hero stories to gain inspiration of how other fans have gone the extra mile.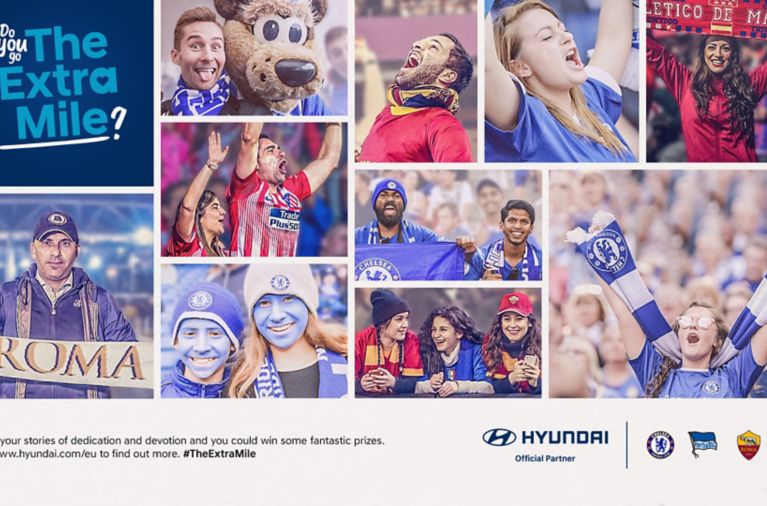 We're delighted to launch The Extra Mile, which aims to bring to life the incredible passion and dedication of fans across our pan-European club partnerships and is a great way to bring our For the Fans campaign to life. Hyundai has always adopted a 'fan first' approach, and this new initiative will enable us to celebrate those individuals and groups that have a unique connection and bond with their clubs. We look forward to seeing the entries and providing a platform for fans to communicate how they go the extra mile when following their favourite team.
Hyundai has been a FIFA Top Partner since 1999, was engaged with UEFA for 18 years to 2017, and remains heavily involved with national teams as well as individual clubs in many countries, including Olympique Lyonnais in France and, from this season, Chelsea FC in the UK, Club Atlético de Madrid in Spain, Hertha BSCin Germany and AS Roma in Italy.