Exhibition part of 'The Hyundai Project at LACMA,' an ongoing 10-year art initiative between LACMA and Hyundai Motor Company 
Kruger's largest comprehensive survey featuring 33 works in various mediums, including photography, sculpture, graphic design, architecture and audio-visual installations 
Expanding on the artist's previous work on buses in other cities, Kruger has created a mobile public artwork Untitled (Car), a wrap affixed to Hyundai's newest electric vehicle, the IONIQ 5, which will be on view driving throughout Los Angeles during the run of the exhibition
Hyundai Motor Company and the Los Angeles County Museum of Art (LACMA) today unveiled the latest installment of their ongoing collaboration, a comprehensive survey on the American conceptual artist Barbara Kruger, entitled "Thinking of You. I Mean Me. I Mean You."
The Hyundai Project at LACMA, a joint initiative between Hyundai Motor Company and LACMA since 2015, has presented a series of exhibitions and programs with the purpose of sparking dialogue, empathy, and collaboration beyond boundaries. Barbara Kruger's way of challenging conventional perspectives inspires us in many ways, and we are honored to be part of her urban intervention, especially at a time when social interaction has been limited for too long in public spaces.
We're thrilled to bring Barbara Kruger's influential and distinctive works to the museum this spring as part of The Hyundai Project at LACMA. It has been a true honor to collaborate with the Hyundai Motor Company on this joint initiative, which has allowed us to bring art and art historical scholarship to the public. We are grateful for Hyundai's ongoing support.
This year's installment is a comprehensive study of Barbara Kruger's decades-long artistic practice. The artist is most known for her collage style that consists of black-and-white photographs, overlaid with declarative captions, stated in white-on-red text. The phrases typically include pronouns, such as "you", "we" and "they", addressing cultural constructions of power, identity, consumerism and gender. Kruger's artistic mediums include photography, sculpture, graphic design, architecture and audio-visual installations.
The exhibition features 33 works, including symbolic pieces such as large-scale vinyl room wraps, video installations and audio soundscapes. New video work reimagining Kruger's vinyl art pieces will be exhibited as well.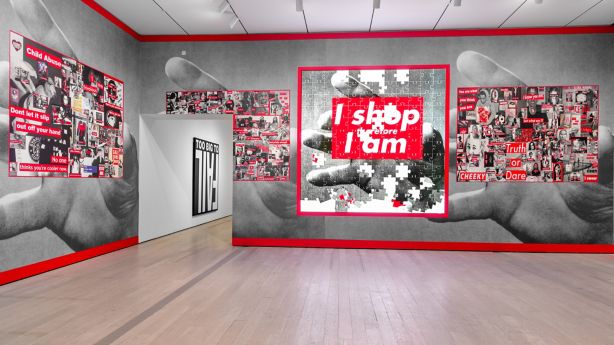 As part of the exhibition, Kruger has created artworks that can be viewed outdoors along Wilshire Boulevard, including the exterior of BCAM and on the construction fence for the David Geffen Galleries, the museum's new building for the permanent collection. In addition, expanding upon the artist's previous work on buses in Los Angeles, New York, and Europe, Kruger has created Untitled (Car), a wrap affixed to Hyundai's newest electric vehicle, the IONIQ 5. This mobile public artwork will be on view driving throughout Los Angeles during the run of the exhibition.
Hyundai Motor and LACMA's 10-year partnership is the longest and largest programmatic commitment from a corporate sponsor in the museum's history. Under the umbrella of 'The Hyundai Project,' this unprecedented partnership allows LACMA to make significant strides in two important fields, Art + Technology and Korean art scholarship. Hyundai's support in these areas encompasses acquisitions, exhibitions and publications through 2024.
'The Hyundai Project' reflects Hyundai Motor's commitment to contribute to the development of arts and culture by supporting institutions and exhibitions around the globe, with the aim of conveying the brand's vision of 'Progress for Humanity' through long-term partnerships.