Hyundai's versatile SANTA FE is the perfect SUV for short getaways or longer holidays alike 
Ample interior room ensures passengers and travelling equipment alike enjoy space and comfort on every journey
Occupants can make the most of their journey with a host of advanced technologies
The most important cargo – passengers – are always protected thanks to updated handling and safety features
The open road, singing in the car, playing games to pass the time... a road trip is one of the best plans for a family vacation: whether a short getaway or a longer holiday. Although planning can be a challenge, paying attention to some key elements will ensure the experience will turn out to be enjoyable. With a range of features that let drivers and passengers enjoy the journey just as much as the destination, the Hyundai SANTA FE is the perfect SUV for a family road trip.
Designed for families with children of all ages, SANTA FE combines comfort and space with a range of advanced technology that guarantees fun while out on the road.
Think before packing for the road trip
Many holidaymakers leave their packing until the last minute, before throwing what appears to be the entire wardrobe into their suitcase. Therefore, it is essential to plan for activities well ahead. That means proper boots ahead of a big hike, raincoats to pre-empt unseasonal weather conditions, and sharp attire for premium dining at a restaurant.
With a cargo capacity of up to 634 litres, SANTA FE guarantees that passengers can be assured they will not have to leave anything behind. This voluminous interior space goes beyond luggage, providing enough room for tents, sleeping bags and the family pet.
Comfort is also not a problem with SANTA FE. With an intuitive and ergonomic interior design, the centre console and infotainment system are easily in reach for the driver and front passenger.
SANTA FE's large platform also makes it easy for passengers to sit back and unwind: rear occupants have more space to stretch their legs in the second and third rows. This relaxed environment is optimum for the kind of family in-car games essential to any long journey.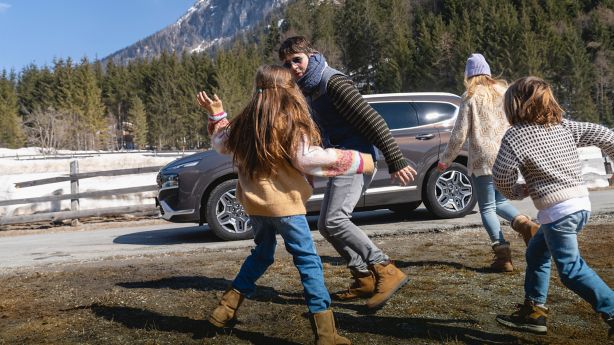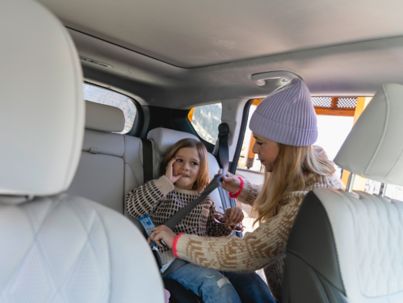 Having fun in the car
If passengers run out of ideas for games, music is the answer. A good soundtrack is a must for any road trip. SANTA FE's 10.25-inch infotainment system supports both Apple CarPlay and Android Auto for a seamless listening experience. This allows passengers to easily access their favourite radio stations or playlists. In addition, Voice Recognition and a full Head-Up Display (HUD) augment the driving experience to keep drivers' focus on the road, ensuring that they can recognise information without distraction.
Occupants also do not have to worry about their smartphones running out of battery over the course of the journey, thanks to SANTA FE's built-in wireless inductive charging. An integrated alert in the instrument cluster reminds drivers before leaving the vehicle, so nothing gets left behind.
It's important to pay attention to the route ahead
With a range of sophisticated navigation systems and apps both at our fingertips and in our vehicles, it is actually something of a challenge to get lost in the modern age. Instead, the main navigatory challenge is to plan the most efficient route. Thanks to Hyundai's latest Bluelink connected car technology, SANTA FE makes this easy for drivers.
Among other things, Bluelink assists drivers in avoiding areas of high traffic and congestion with Connected Routing. This feature is able to inform them about the most current traffic and road conditions in their area. Visitors to a new town or city can also utilise Bluelink's extensive POI database, which provides information about a location's restaurants, parking spots, or refuelling stations with live pricing at the touch of a button.
Even after parking, SANTA FE's Last Mile Navigation system has drivers' backs, as it seamlessly guides users to their final destination via their smartphone.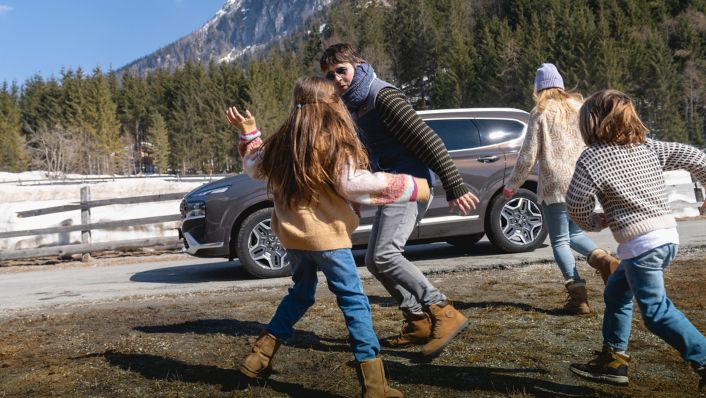 Fun behind the wheel
Road trips are about the experience, too. SANTA FE does not eschew performance to deliver family-friendliness. With Hyundai's advanced HTRAC four-wheel drive system, acceleration and stability are improved, while hybrid powertrains help drivers save money at the pump without forgoing an exciting driving experience. Unlike other four-wheel systems, HTRAC actively adjusts the driving power distribution to all four wheels, allowing drivers to choose between four driving modes and three terrain modes to tailor custom performance for any situation.
For those who look for optimized efficiency, Eco driving mode optimises performance to reduce fuel consumption and improve efficiency for longer and shorter journeys. Sport mode puts a little more pep in the step of SANTA FE, allowing those who want a sporty experience and a family vehicle to have their cake and eat it too. Meanwhile, Comfort mode offers the best of both worlds, whether trying not to wake the kids in the back seat, or enjoying a daily commute. It achieves this by adapting performance to provide a comfortable driving experience without forgoing efficiency. For drivers having a difficult time choosing, Smart mode automatically switches between driving modes and adjusts gear shift patterns based on driving patterns.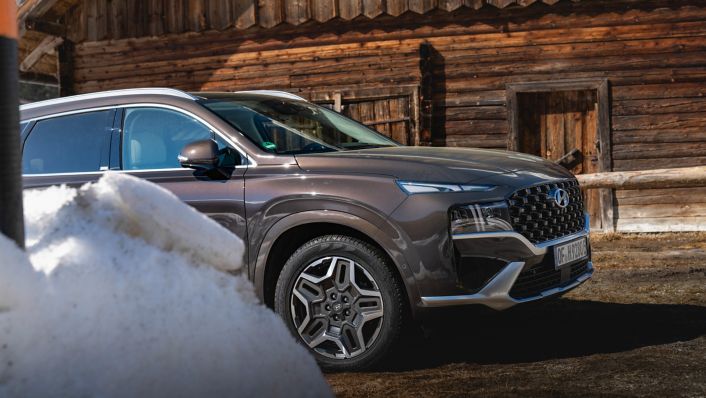 Turning the holiday into an "off-road" trip
In addition to the four driving modes offered, SANTA FE is able to hold its own when faced with the full spectrum of road conditions, for even more reassurance. Three terrain modes improve performance and provide additional safety for drivers and families – on- or off-road.
Snow terrain mode maximises traction and performance in slippery conditions, ensuring SANTA FE does not slip and slide. With Sand terrain mode, SANTA FE is ready for family beach trips, too, as its advanced HRTAC system tackles high resistance conditions to keep moving. Muddy conditions do not pose a problem, either, thanks to Mud terrain mode, which adapts performance to high-resistance and slippery conditions.
Safety-first with SANTA FE
While SANTA FE promises a fun time on the road, it is important that drivers remember to schedule some rest stops at least every two hours. And if they forget, the Driver Attention Alert (DAW) function will remind them to do so. This one of the many features of its comprehensive advanced safety package spearheaded by Hyundai SmartSense, which delivers best-in-class technology and industry-first features.
Lane Following Assist (LFA) uses a camera to monitor lane markings and keep the vehicle safely within the lane, while Highway Driving Assist (HDA 1.5), which combines LFA with Navigation-based Smart Cruise Control Curve (NSCC-C) technologies, improves safety on the motorway and makes long journeys more relaxing. For families travelling with trailers, hauling is made easy with an integrated trailer view and dynamic guidelines for the rear-view camera.
SANTA FE's Parking Collision-avoidance Assist (PCA) also utilises the rear-view camera, in combination with ultrasonic sensors, to detect objects when reversing at low speeds. PCA then delivers a warning and applies the brakes automatically if necessary. With this feature, drivers can reverse out of a parking space with a full rear storage space.
Finally, the integrated Rear Occupant Alert (ROA) reminds drivers of rear passengers before leaving and locking the vehicle, ensuring that children and pets do not get left behind. In addition, Safe Exit Assist (SEA) also protects passengers by alerting occupants and locking the doors when they attempt to exit the car into oncoming traffic, keeping them from danger in low-visibility conditions.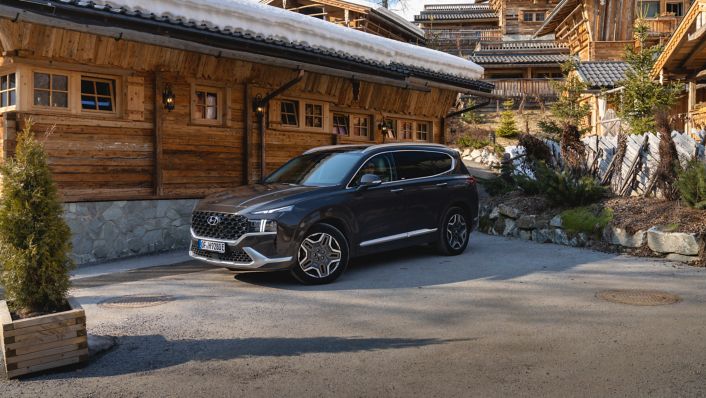 Drivers have even more powertrain options
With the choice between three powertrains, drivers do not have to worry about sacrificing efficiency for performance while undertaking extensive journeys. Hybrid and plug-in hybrid variants offer cost-conscious drivers relief at the pump while still offering 230 PS and 265 PS, respectively.
SANTA FE's plug-in hybrid version comes with a 1.6-litre T-GDi 'Smartstream' engine paired with a 66.9 kW electric motor and 13.8 kWh lithium-ion polymer battery. This powerful configuration not only offers drivers an exciting experience, but reduces fuel consumption and emissions significantly. In normal use, the SANTA FE Plug-in Hybrid consumes just 1.6 l/100km (WLTP, weighted combined). The powertrain's excellent efficiency is combined with performance, allowing drivers with the need for speed to accelerate from 0 to 100 km/h in 8.8 seconds and reach a top speed of 187 km/h.
SANTA FE is also available with the new 2.2-litre 'Smartstream' diesel powertrain. A new lightweight aluminium engine block is paired is complemented by a state-of-the-art 8-speed wet dual-clutch transmission, offering increased agility and torque while still supporting energy-saving driving.
Disclaimer: CO2 and emissions data
Fuel consumption combined for the Hyundai SANTA FE 1.6 T-GDI Hybrid with 6AT 2WD in l/100 km: 6.9 - 6.4; CO2 emissions combined in g/km: 157 - 146 (WLTP)
Fuel consumption combined for the Hyundai SANTA FE 1.6 T-GDI Hybrid with 6AT 4WD in l/100 km: 7.6 - 6.9; CO2 emissions combined in g/km: 172 - 157 (WLTP)
Fuel consumption combined for the Hyundai SANTA FE 1.6 T-GDI Plug-in Hybrid in l/100 km: 1.6; electricity consumption combined in kWh/100 km: 18.1; CO2 emissions combined in g/km: 37 (WLTP)
Fuel consumption combined for the Hyundai SANTA FE 2.2 CRDi with 8DCT 2WD in l/100 km: 6.3 - 6.1; CO2 emissions combined in g/km: 166 - 161 (WLTP)
Fuel consumption combined for the Hyundai SANTA FE 2.2 CRDi with 8DCT 4WD in l/100 km: 6.8 - 6.6; CO2 emissions combined in g/km: 179 - 172 (WLTP)