Established by the United Nations, World Environment Day began in 1974 as a day to celebrate the preservation and enhancement of the environment. For over 40 years, this annual event has promoted ways to improve the Earth's environment, such as conserving forests or by driving eco-friendly vehicles.
Hyundai Motor is also working to preserve the planet's resources, valuing sustainable growth and a clean mobility future. The company has aligned itself with a number of clean driving initiatives including the Go Ultra Low campaign, which aims to increase the uptake of electric vehicles. Hyundai is also looking to increase the fuel efficiency of its commercial vehicles by up to 30% by 2020. As part of its global sustainability strategy, the company also plans to launch 14 new eco models, including hybrids, plug-in hybrids, pure electric and fuel cell cars by 2020.

Hyundai has been developing eco-friendly vehicles for 30 years

Hyundai Motor has been at the forefront of the development of environmentally-friendly vehicles for almost 30 years, and has led the way on hydrogen vehicle development for two decades. In 1988, the company began developing flexible-fuel vehicles and in 1991, the company developed its first pure electric car, the sedan-based Sonata Electric Vehicle. In 1995, Hyundai developed its first hybrid-electric vehicle, the FGV-1 concept car, while it began developing fuel cell vehicles in 1998. The company's first prototype Fuel Cell car, based on the Santa Fe, was introduced in 2000.

The ix35 Fuel Cell: the world's first mass-produced hydrogen-powered car

The prototype Santa Fe Fuel Cell Electric Vehicle from 2001 was quite basic, with a 75kW fuel cell, a 72-litre gas tank, a top speed of just 124 km/h and a range of around 160 km. Though impressive for the time, these statistics, combined with the lack of infrastructure for hydrogen cars, illustrated why fuel cell vehicles weren't viable as a mass-production car at the turn of the millennium.
Fast forward to 2013 and, thanks to a host of technological advancements, the Hyundai ix35 Fuel Cell became the world's first production FCEV (fuel cell electric vehicle). Boasting an output of 100 kW and a tank that contains 5.64 kg of hydrogen, it lasts for a range of almost 600 km. Its energy is stored on a 24 kWh lithium-ion polymer battery.
Monday 5 June is World Environment Day, which encourages worldwide awareness and action to protect the world's environment. With 14 eco cars due to launch by 2020, Hyundai Motor is doing its part too.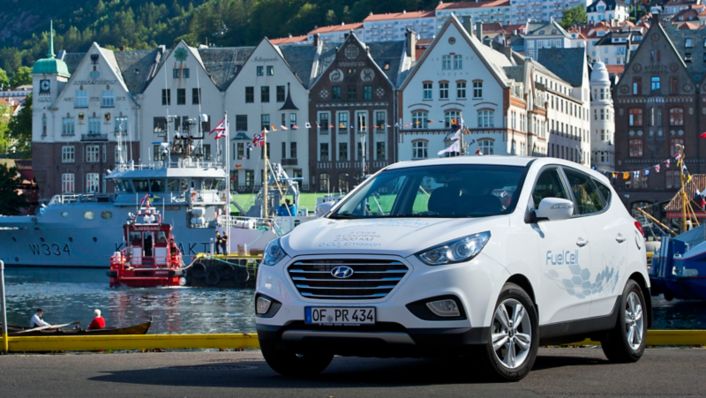 The Hyundai IONIQ: the first car in the world to offer three electrified powertrains
The Hyundai IONIQ launched to much fanfare in late 2016, as the world's first car to offer separate hybrid, full electric and plug-in hybrid powertrains within one bodytype. A key characteristic of the IONIQ is its innovative use of recycled or eco-friendly material and less reliance on oil-based products. One example of this is its interior door covers, which are made of natural plastic combined with powdered wood and volcanic stone. This makes them durable and sustainable, as these parts can be recycled at the end of the car's life.
Fun eco-friendly facts about the IONIQ
The IONIQ is made with a range of organic materials, including organic sugar cane and volcanic stone.
The IONIQ Electric produces zero emissions - that's less CO₂ than a cat!
The IONIQ is inspired by your soy latte. Most cars feature ethanol-based paint, but the IONIQ uses soybean oil for a more eco-friendly finish.
When IONIQ drivers hit the brakes, the battery charges! Kinetic energy is converted and stored in the IONIQ's battery, giving drivers an extra boost of power when they need it.
With a drag coefficient of 0.24, the IONIQ has four times less drag than your bicycle.
The IONIQ Electric charges itself more quickly than a smartphone can. It can reach 80% charge in just 23 minutes.
Consumption data*
ix35 Fuel Cell

Electric engine / Fuel Cell (100 kW (136 PS)): Fuel efficiency combined: 0.95 kg/100 km; urban: 0.89 kg/100 km; extra-urban: 0.99 kg/100 km; CO2 emissions combined: 0 g/km

IONIQ Electric

28 kWh Battery: Battery efficiency: 11.5 kWh/100 km; CO2 emissions: 0 g/km

IONIQ Hybrid

1.6 GDi / 1.56 kWh Battery: Fuel consumption combined: 3.9 - 3.4 l/100 km; urban: 3.9 - 3.4 l/100 km; extra-urban: 3.9 - 3.6 l/100 km; CO2 emissions combined: 92 - 79 g/km

IONIQ Plug-in

1.6 GDi / 8.9 kWh Battery: Fuel consumption combined: 1.1 l/100 km; Battery efficiency: 9.4 kWh/100 km; CO2 emissions combined: 26 g/km
* Depending on trim and tyre specifications