The multi-award winning New Santa Fe was Cars.com's 'Family Car of the Year' in 2015 and it's not hard to see why. The model boasts advanced active safety and driver convenience technology. These include: Automatic Emergency Braking, Lane Departure Warning, Blind Spot Detection with Rear Cross-traffic Alert and Lane Change Assist.

Available in five or seven seat versions, the car also comes with four-wheel drive on every model offering greater stability and traction on different road surfaces whatever the conditions; hot, wet, or icy.

Let's take a closer look at why these active safety technologies make the New Santa Fe a standout car for the family.
Modern cars like the Hyundai Santa Fe are equipped with a host of active safety features to keep road users safer and to offer more convenience for drivers.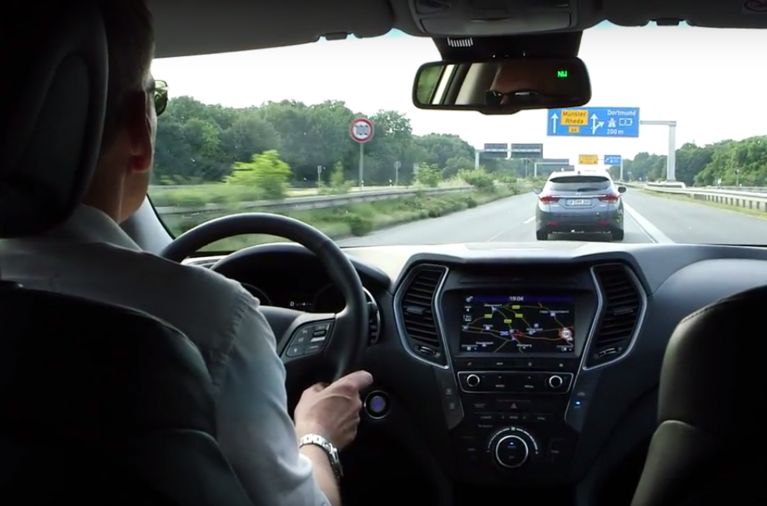 Safety for those inside and outside

Imagine you're driving through the city when a person steps off the footpath onto the street in front of you. Using both a camera and radar sensor, Automatic Emergency Braking, AEB, with Pedestrian Detection will kick in if the driver doesn't react, first alerting visually and acoustically, while gradually increasing braking force. If a potential crash is predicted, the system will apply the brakes automatically to avoid a collision.
Will I manage to park here? You ask yourself. As humans, we have a limited ability to judge distances, especially for something as big as the Hyundai Santa Fe. We can only manage what we can measure, so let your SUV's sensors do the job. The Multi-View Camera System is also available to give 360-degree coverage around your car. When the system is on, you'll see a view of your Santa Fe from above on your central navigation screen and you can control front, rear, and side camera angles. A forward-cornering camera is mounted on the front grille. Two more cameras are located in your side mirrors with a further rear-view camera.

How about letting your Santa Fe do the work for you with Smart Parking Assist? Activate the system and select the mode such as reverse parking or parallel. The system takes control of your steering wheel while you simply take care of the braking.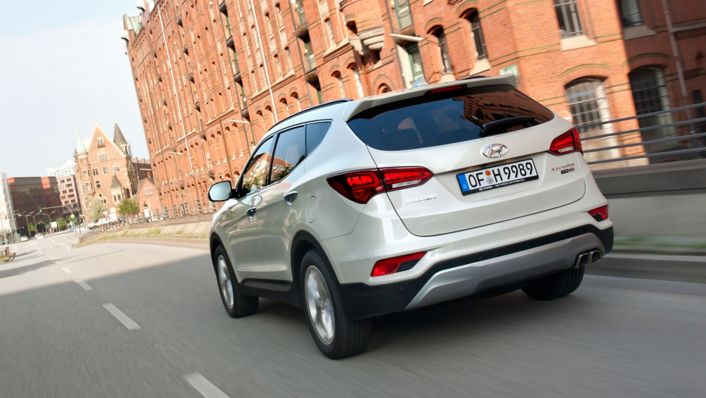 Coverage where you can't see

It's often been said after accidents that the driver doesn't have eyes in the back of their head. And if you compare the size of your windshield with a car's mirrors, the field of view is tiny. Technology is the answer, and the New Santa Fe's Blind Spot Detection system sees the parts of the road you can't. Using radar, Blind Spot Detection offers audio alerts for traffic coming behind you as well as alongside you and a visual alert on your wing mirrors.

We all know how traffic levels increase in the morning or evening rush hour, or in holiday periods when families hit the road for a break. More cars on the road means we need to be more alert behind the wheel. And today's safety systems are there to assist. When Smart Cruise Control detects a vehicle directly ahead, it automatically slows down to a safe distance. It will also accelerate to a pre-set cruise depending on the traffic conditions. .

Other available safety features in the Santa Fe include Lane Departure Warning, and High Beam Assist for even safer night driving.

The popular SUV is Hyundai's longest-running model in Europe and has become one of its most iconic nameplates, having built a reputation for sophistication and premium quality. Since its initial launch in 2001, Santa Fe has been the flagship in Hyundai's SUV line-up and a key contributor to its 1.2 million SUV sales in Europe.
Consumption Data*
Gasoline Engines

2.4 GDi (188 PS): Fuel consumption combined: 9.4 l/100 km; urban: 12.9 l/100 km; extra-urban: 7.4 - 7.3 l/100 km; CO2 emissions combined: 219 - 218 g/km

Diesel Engines

2.0 CRDi (150 PS): Fuel consumption combined: 6.7 - 5.8 l/100 km; urban: 8.2 - 6.8 l/100 km; extra-urban: 6.0 - 5.2 l/100 km; CO2 emissions combined: 177 - 154 g/km
2.2 CRDi (200 PS): Fuel consumption combined: 6.6 - 5.9 l/100 km; urban: 8.0 - 7.1 l/100 km; extra-urban: 5.9 - 5.1 l/100 km; CO2 emissions combined: 174 - 155 g/km
*Depending on trim and tire specifications.