Hyundai Motor aided Healthy Seas in realising an educational and clean-up event in Spain
A total of 120 schoolchildren learned about the ghost fishing phenomenon and helped at beach clean-up
Volunteer divers recovered a 450-kilogramme fishing net from the Roca Muladera reef
Hyundai Motor supported Healthy Seas in implementing another event since the announcement of their partnership back in April. The event included clean-up and educational activities and took place between 1 and 3 October in Tossa de Mar in Spain.
Also part of the cooperation was Ghost Diving Spain. The team of volunteer divers, which has been in operation since 2014, recently struck a partnership with Healthy Seas. Over the summer, they carried out ten sea clean-up projects together.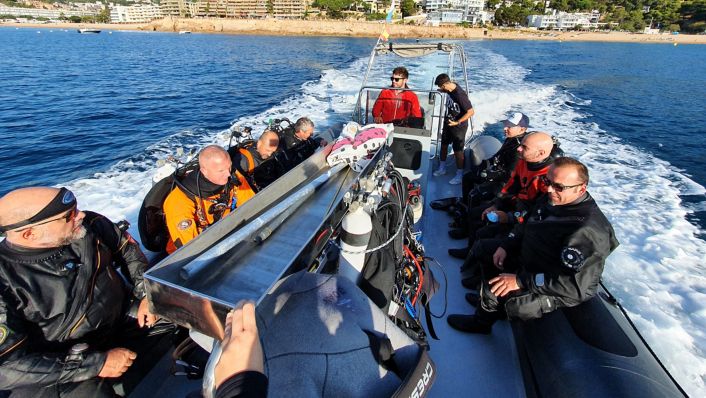 Engaging and educating the local community
The first day of the event was kicked off with a conference at Tossa Del Mar City Council. In collaboration with Xatrac, a local environmental association, 120 schoolchildren from the nearby school Escola Pública Ignasi Melé i Farré joined the educational programme that followed.
The children helped clean up a beach, participated in interactive presentations, and played games to draw more attention to the ghost fishing phenomenon. "Ghost nets" are fishing nets abandoned underwater that unintentionally trap and kill marine life. An estimated 640,000 tonnes of fishing equipment are lost or abandoned in the world's oceans and seas yearly.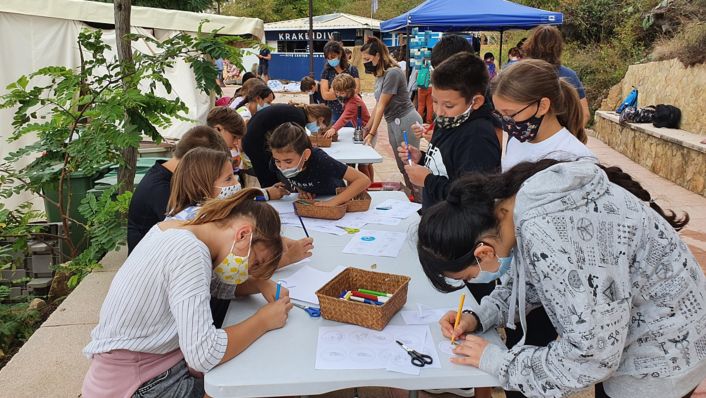 Saving the Roca Muladera reef
During the event, eight volunteer divers converged at Roca Muladera reef near Tossa de Mar for underwater clean-up activities. The first net found covered the reef, denying marine life food and shelter. The recovered net covered an area of 100 square metres and weighed 450 kilogrammes. The divers could extract 30 kilogrammes of lead from the net, which they plan to upcycle into weights for their diving belts.
Thanks to our joined collaborations, we were able to expand our activities to Spain. It is an honour to support local efforts to heal and protect the environmentally burdened coasts and seas of this beautiful country.
For Hyundai, as a purpose-driven company sustainability is not just a trend but a societal need. Through our partnership with Healthy Seas, we can leave a positive effect on the environment as well as local communities. The marine ecosystem is close-knit, so any local clean-up effort will have a global impact. And by integrating the recovered waste into our products, we will be driving a circular economy.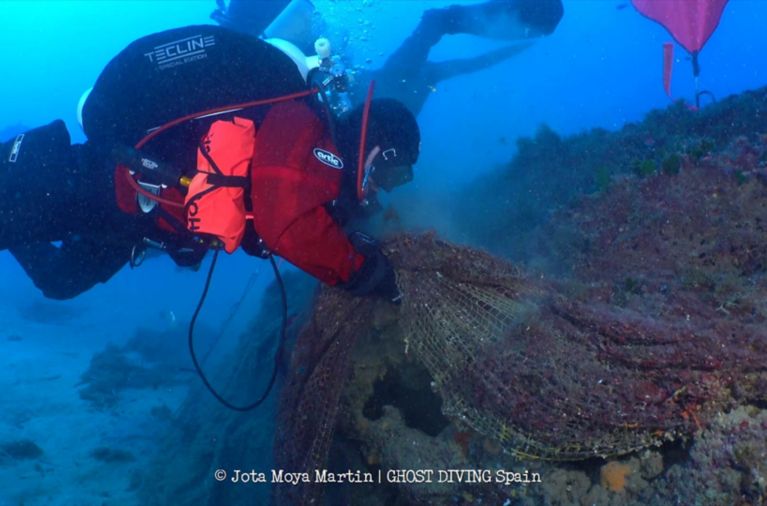 From waste to wear
Hyundai is a leader in environmentally friendly and future-thinking mobility solutions, so cleaning up the world's oceans and preventing marine pollution aligns with its global strategy. With its Progress for Humanity vision, Hyundai aims to showcase the benefits of a circular economy.
Healthy Seas will ensure that a new resource will be produced from the recovered ghost nets. Another one of Healthy Seas' partners, Aquafil, will transform the nylon parts of the nets along with other nylon waste into ECONYL®. This regenerated yarn will be the basis for new sustainable products, such as IONIQ 5's floor mats, swimwear, and carpeting.
About Healthy Seas
The mission of the 'Healthy Seas, a Journey from Waste to Wear' initiative is to remove waste from the seas, in particular fishing nets, for the purpose of creating healthier seas and recycling marine litter into textile products. The recovered fishing nets will be transformed and regenerated by Aquafil, together with other nylon waste, into ECONYL® yarn, a high-quality raw material used to create new products, such as socks, swimwear, sportswear or carpets. Since its founding in 2013, Healthy Seas has collected over 585 tonnes of fishing nets with the help of volunteer divers and fishermen.
About Ghost Diving
Ghost Diving is an international non-profit organisation of volunteer technical divers specialised in the removal of lost fishing gear and other marine debris since 2009.
To this day, the Ghost Diving team has carried out diving projects independently or in collaboration with several international environmental and/or diving organisations like: Healthy Seas Foundation, Greenpeace, WWF, Global Ghost Gear Initiative and Global Underwater Explorers.
Hyundai Motorsport has confirmed its crew line-up for the new era of the FIA World Rally Championship (WRC) with Dani Sordo and Oliver Solberg sharing the team's third Rally1 car.
The team had already confirmed Thierry Neuville and Ott Tänak as full-time drivers for the start of WRC's hybrid regulations, but the addition of Sordo and Solberg will bring an ideal mix of experience and youth in its ninth season.
Sordo has been part of the Hyundai Motorsport squad since its debut in 2014 and has played an integral role in some of its most memorable moments. The Spaniard contributed to a famous 1-2 result in Rallye Deutschland in the first year of competition and has gone on to be a consistent performer in each season since. He has claimed two victories in Hyundai Motorsport colours, both at Rally Italia Sardegna in 2019 and 2020, and a total of 13 podium finishes to date.
Disclaimer: CO2 and emissions data
Electricity consumption combined for the Hyundai IONIQ 5 58 kWh with 2WD in kWh/100 km: 16.7; CO2 emissions combined in g/km: 0 (WLTP)
Electricity consumption combined for the Hyundai IONIQ 5 58 kWh with 4WD in kWh/100 km: 18.1; CO2 emissions combined in g/km: 0 (WLTP)
Electricity consumption combined for the Hyundai IONIQ 5 72.6 kWh (19" alloy rims) with 2WD in kWh/100 km: 16.8; CO2 emissions combined in g/km: 0 (WLTP)
Electricity consumption combined for the Hyundai IONIQ 5 72.6 kWh (20" alloy rims) with 2WD in kWh/100 km: 17.9; CO2 emissions combined in g/km: 0 (WLTP)
Electricity consumption combined for the Hyundai IONIQ 5 72.6 kWh (19" alloy rims) with 4WD in kWh/100 km: 17.7; CO2 emissions combined in g/km: 0 (WLTP)
Electricity consumption combined for the Hyundai IONIQ 5 72.6 kWh (20" alloy rims) with 4WD in kWh/100 km: 19.0; CO2 emissions combined in g/km: 0 (WLTP)