From wooden depot hacks to all-steel consumer cars

The first station wagons were born out of train travel, which was the dominant mode of transport before the mass production of cars and commercial air travel. Originally called "depot hacks", the earliest wagons were used to carry passengers and their luggage after they got off trains. This early design was based on a track platform without doors. In 1922, the first enclosed station wagons were introduced and these featured wood-based designs.
Up until the Second World War, station wagons were generally regarded as commercial vehicles like trucks rather than consumer automobiles, and they accounted for less than 1% of motor vehicle sales in 1940. However, the post-war boom saw an increase in car production, and thanks to new advances in production techniques, manufacturers of station wagons adopted all-steel bodies due to their strength, cost and durability compared to their wooden equivalents.
Station wagons have come a long way from their humble beginnings transporting train passengers and their luggage. Today's models are sleek and versatile, without compromising on boot space.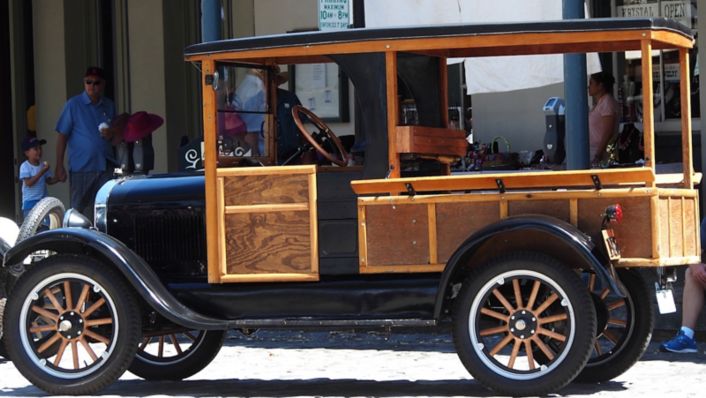 The birth of modern wagon

The standard design of modern station wagons has its roots in the 1960s. This decade saw the development of compact, mid-size and full-size wagons. Car-buyers could choose between a two-way, three-way, side-by-side or lift back option. This decade saw the introduction of a raised rooflines beginning above the second-row seat and continuing all the way to the rear tailgate. These models also featured acrylic glass panels and a glass sunroof.
The station wagon declined in popularity in the United States following the 1973 oil crisis, as pickup trucks and SUVs then took centre stage. However, they remained popular in other parts of the world. European manufacturers often built two-door station wagons in the post-war period for the compact class, and by the 1980s developed four-door models.
In the United Kingdom, station wagons are generally called "Estate cars". Most small cars produced in the UK from the 1950s to the 1980s had Estate versions that appealed to people with bigger families and offered ample boot space at the back. In France, almost all station wagon models are called "the Break", and French manufacturers produced American-style seven- or eight-seater family versions long before MPVs became popular on the rest of the continent. Although the rise of SUVs has challenged the station wagon's dominance over the last few decades, they remain popular in Europe.
Station wagons of the 21st century

In recent years, station wagons have undergone a resurgence is popularity, due in part to technological advances and a more modern, sleek bodystyle. Gone are the days where wagons were simply the preserve of large families. These days, they're sportier by offering great handling while still offering lots of boot space. Fast, high-performance station wagons were all the rage at the 2017 Geneva Motor Show, with a number of manufacturers introducing vehicles with long, roomy rear ends and a powerful engine.
Hyundai's New Generation i30 Wagon was unveiled in Geneva. The latest member of the i30 family, it features a tapering roofline and dynamic proportions, which provide an almost coupé-like silhouette. Its sleek and dynamic profile is further emphasised by a rich chrome frame surrounding the side windows, and it doesn't compromise boot space: with 602 litres of space (VDA 211) and 1,650 litres (VDA 214) with the seats folded, it has one of the biggest boots in the segment. It's also versatile, with additional storage space beneath the boot floor and several compartments.
The New Generation i30 Wagon also boasts a best-in-class safety package, as well as offering the latest connectivity features. Its advanced safety features include Autonomous Emergency Braking, Driver Attention Alert, High Beam Assist and Lane Keeping Assist System. It also offers customers a spacious and elegant interior with a horizontal layout and free-floating eight-inch touch screen for the infotainment system featuring Apple CarPlay, Android Auto and LIVE Services.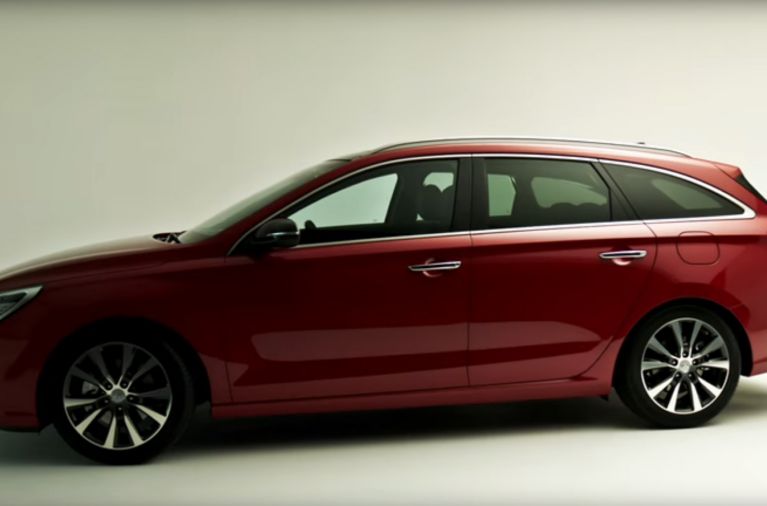 Consumption Data*
i30 Wagon

Gasoline Engines
1.4 MPI (100 PS): Fuel consumption combined: 5.8 - 5.6 l/100 km; urban: 7.0 - 6.9 l/100 km;
extra-urban: 5.1 – 4.9 l/100 km; CO2 emissions combined: 136 - 131 g/km
1.0 T-GDi (120 PS): Fuel consumption combined: 5.2 - 4.9 l/100 km; urban: 6.0 - 5.9 l/100 km;
extra-urban: 4.6 - 4.4 l/100 km; CO2 emissions combined: 120 - 115 g/km
1.4 T-GDi (140 PS): Fuel consumption combined: 5.5 – 5.0 l/100 km; urban: 6.7 – 6.0 l/100 km;
extra-urban: 5.0 - 4.6 l/100 km; CO2 emissions combined: 129 - 114 g/km
Diesel Engines
1.6 CRDi (110 PS): Fuel consumption combined: 4.3 – 3.7 l/100 km; urban: 4.7 – 4.1 l/100 km;
extra-urban: 4.1 – 3.5 l/100 km; CO2 emissions combined: 112 - 96 g/km
1.6 CRDi (136 PS): Fuel consumption combined: 4.3 - 3.7 l/100 km; urban: 4.7 – 4.2 l/100 km;
extra-urban: 4.1 – 3.6 l/100 km; CO2 emissions combined: 112 - 99 g/km
* Depending on trim and tyre specifications