Hyundai Motorsport has claimed its first podium of the 2022 FIA World Rally Championship (WRC) with Thierry Neuville finishing second in a competitive Rally Sweden
The Belgian gained a place on Sunday morning and resisted pressure from Esapekka Lappi in the closing stages with a confident performance right to the finish
Oliver Solberg finished the rally in sixth place, securing important championship points, with Ott Tänak taking the maximum from the Power Stage after a frustrating weekend
Hyundai Motorsport has registered its first podium finish of the 2022 FIA World Rally Championship (WRC) as Thierry Neuville and co-driver Martijn Wydaeghe secured second position after Sunday's four stages.
Heading into the final day of action in third position, the Belgian crew was determined to fend off the advances of Esapekka Lappi for the final podium place. While that close contest continued into Sunday's four high-speed stages – a repeat loop of Vindeln (SS16/SS18 – 14.19 kilometres) and Sarsjöliden (SS17/SS19 – 14.23 kilometres) – it became a fast-paced sprint for second after Elfyn Evans ran into trouble on the opening test.
Despite losing time to Lappi on the first run through Sarsjöliden, Neuville rebounded immediately to take a stage win on the repeated Vindeln pass. The scene was set for a thrilling Power Stage with Oliver Solberg and Ott Tänak also looking for a final flourish after their respective issues earlier in the rally.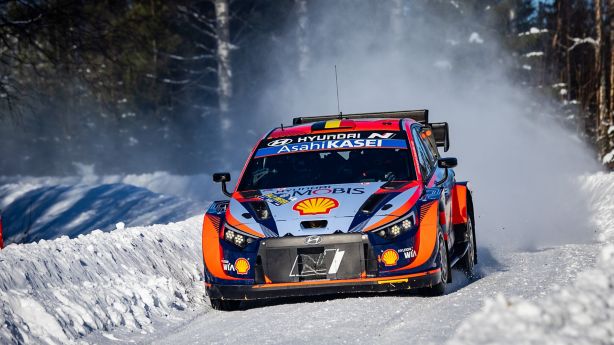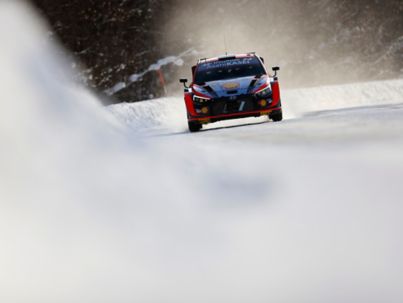 The Estonian crew flew to the fastest time through both passes of Sarsjöliden, determined to take something away from a frustrating weekend that was hampered by a hybrid issue on Friday. A 1-3 for the team in the Power Stage, with Tänak quickest and Neuville taking three extra points, was a competitive note on which to end the rally.
There were also positives to take away from the weekend for Solberg and his co-driver Elliott Edmondson, as they finished sixth. The crew demonstrated real intent on the final day, bouncing back from a throttle issue on Saturday afternoon that had dropped them to seventh.
Crew Notes: Thierry Neuville/Martijn Wydaeghe (#11 Hyundai i20 N Rally1)
Competitive weekend fulfilled the Belgian crew's pre-event objectives
Fourth Swedish podium for Neuville after taking second in 2015, first in 2018 and third in 2019
It's a great feeling to take a podium here in Sweden, our first in the new hybrid era. It's a bit unexpected after what we saw in Rallye Monte-Carlo, but the team has done a good job. My thanks go to everyone at the factory in Germany for pushing hard. We could already see in shakedown that the speed was not too bad, and it was a surprise to be leading the rally on Friday evening. After that, it was a bit more difficult to find the right set-up, but we had enough pace to keep our focus on the podium – and eventually secure second place. We now have one and a half months to prepare ourselves and the car for Croatia. These weeks will be very important, and there's a lot of work to be done, but after this result, we can look ahead to the upcoming events with more positivity.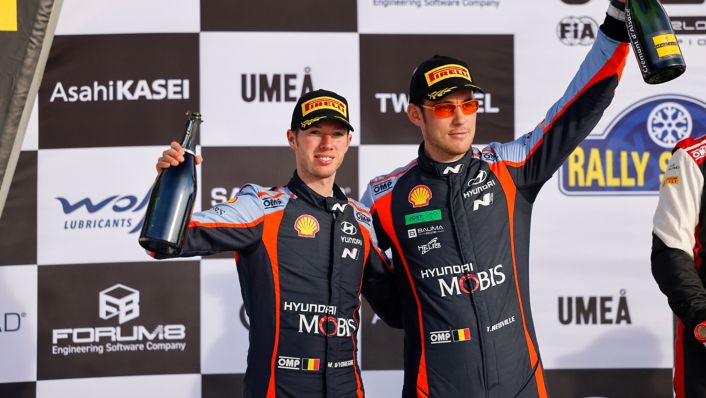 Crew Notes: Oliver Solberg/Elliott Edmondson (#2 Hyundai i20 N Rally1)
Crew showed impressive pace during the rally, running as high as second overall
Top-six finish secured the crew important championship points
The Power Stage was not the perfect end to the rally that we were hoping for. I made a few mistakes and was a bit careful in other places, so it was not a clean run. Still, I have enjoyed this weekend very much. It has been great to be competing at home in a WRC car for the first time, you really can't get better than that. The car has been working well all weekend and the team has done an amazing job, so thanks to them. It's not the result we wanted after some bad luck with the car but that's how it is. We need to work hard with a big smile on our faces because the speed is there. We just need to improve our performance more to get to the top, but I have no doubt we will get there.
Crew Notes: Ott Tänak/Martin Järveoja (#8 Hyundai i20 N Rally1)
Two stage wins including Power Stage victory for the Estonian crew
Frustrating weekend overall for the Estonian pair after hybrid issues on Friday
There are not really many positives for us to take away from this rally. Overall, it has been a frustrating and disappointing weekend. On the plus side, we showed that we had the pace to be competitive. The downside is that we weren't able to score many points. We were lucky to take some points away from the Power Stage, but they are few compared to what we should be scoring. I can't really stress too much about the situation because there's little I could have done differently from my side. The team has been working hard and the podium for Thierry offers a bit of payback. I've said before that the potential of the car is there, it just needs work to get where we want to be.
This second place really feels like a victory for us. Don't get me wrong, we are here to win but after some tough months – and especially the disappointment of Monte-Carlo – we are back on the podium, and it feels great. We know there is still work to be done, and improvements we need to make on the car, but we have shown we're getting there. My thanks go to everyone in the team, those on-site and back at our Alzenau factory, who have all worked incredibly hard. This is an important result, but we hope it's just the start of our return to the top.
I am deeply honored to receive the Person of the Year award and would like to thank all of the jury members and the valued team at Hyundai Motor Group, without whom this would not have been possible. I have worked for many companies and brands over my career and I'm delighted at the recognition the Hyundai, Kia and Genesis brands have received. They are a true reflection of the effort of all of the Group employees, retailers and partners who have worked steadfastly to develop a strong lineup of compelling and relevant vehicles on sale in over 200 countries worldwide.
Next rally
The 2022 FIA World Rally Championship will return to tarmac for the next round of the season, with Croatia Rally taking place from 21-24 April
Final Overall Classification – Rally Sweden
K. Rovanperä/J. Halttunen | Toyota GR Yaris Rally1 | 2:10:44.9
T. Neuville/M. Wydaeghe | Hyundai i20 N Rally1 | +22.0
E. Lappi/J. Ferm | Toyota GR Yaris Rally1 | +30.6
T. Katsuta/A. Johnston | Toyota GR Yaris Rally1 | +2:19.4
G. Greensmith/J. Andersson | Ford Puma Rally1 | +3:20.4
O. Solberg/E. Edmondson | Hyundai i20 N Rally1 | +5:39.4
A. Mikkelsen/T. Eriksen | Škoda Fabia Evo | +7:11.1
O. C. Veiby/S. Skærmoen | Volkswagen Polo GTI | +7:34.3
J. Huttunen/M. Lukka | Ford Fiesta MkII | +8:14.2
E. Kaur/K. Aleksandrov | Volkswagen Polo GTI | +8:24.8
2022 FIA World Rally Championship for Manufacturers' Standings
After round 2
Toyota Gazoo Racing World Rally Team | 83
M-Sport Ford World Rally Team | 59
Hyundai Shell Mobis World Rally Team | 47
Toyota Gazoo Racing World Rally Team NG | 22
2022 FIA World Rally Championship for Drivers' Standings
After round 2
K. Rovanperä | 46
T. Neuville | 32
S. Loeb | 27
G. Greensmith | 20
S. Ogier | 19
T. Katsuta | 18
C. Breen | 16
E. Lappi 15
A. Mikkelsen | 12
O. Solberg | 8
O. Tänak | 5
All results remain subject to official FIA confirmation.