Daniel Kim is a Senior Designer at Hyundai America Design & Engineering Center, based in Irvine, California. He was in charge of exterior design during the development of the All-New Hyundai KONA.

How long did you work on the All-New KONA's design, and how many people were involved with this process?

I worked on this project for roughly a year in total. We started by mapping out the concept, then entered the ideation phase and finally the selection of the refined model. As with any project, there is always going to be a dominant idea that drives it, but we worked with many young designers from studios around the world who influenced each other and enriched the final outcome. In terms of the number of people involved in the project, if you include clay sculptors and the engineers who fought for this idea to be made into an actual production car, it's countless!

What is different about the All New Hyundai KONA's design?

Our approach to designing the All-New KONA has been the same as with every car. Hyundai Motor always seeks to provide what our customers want, and this time the result was quite unique, because we really focused on trying to understand what the new generation of customers wants from a car. This generation, which prides itself on being different, will enjoy the KONA, also thanks to its different personalisation options.
The All-New KONA's expressive, powerful front adopts Hyundai Motor's Cascading Grille. Its twin headlamps feature LED Daytime Running Lights. Drivers can also personalise it with ten exterior colours.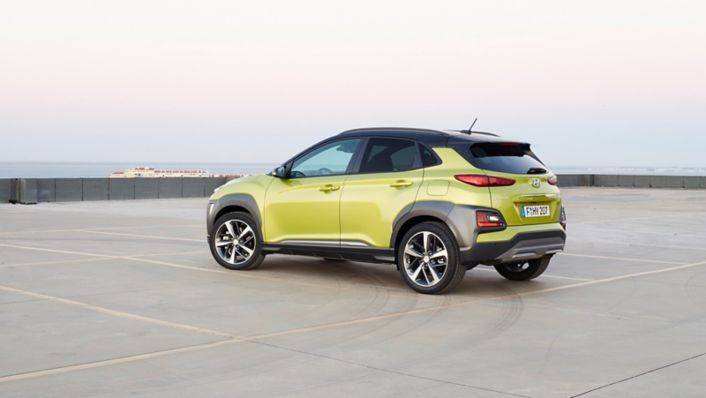 The All-New KONA is inspired by nature, water and the island of Hawaii. Can you tell us more about this?

Where do we see these influences? The All-New KONA has a "go anywhere at any time" attitude. I find the image of Kona island very adventurous and exciting. This is why I consider the KONA car to be related to Kona island as spiritual characters rather than a literal translation.

Can you tell us how the design reflects peoples' lifestyles, particularly those who live in urban areas?

We get inspiration from everywhere, and we want our cars to reflect the people who drive them. In the case of the All-New KONA, I hope that people get a feeling of excitement through the spontaneous attitude the car captures. The KONA projects a duality between the modern and the causal, and this is something key to urban lifestyles.

Please tell us about the headlamps and their visual impact.

The basic thinking was to give the All-New KONA slim, modern and high-tech daytime running lamps. This was a priority as it is one of the main things people notice all the time, whether it's during the day or at night, which makes it appealing and visible. We took this opportunity to create something unique by having a main projection lamp integrated with fender cladding. Overall, this gives it a protective, but tough and modern aspect.
I really like how the front fender cladding is integrated with the main projection lamp. This gives the All-New KONA a unique layout. More importantly, the KONA's overall stance is strengthened by the main gesture and dynamic fender to its body proportion.
Why do you think it is so important for customers to individualise the design of their cars?

Design is a form of language that allows us to communicate. People want to connect and communicate with others by expressing what they think, and they can do this by personalising their own products. Therefore, it's very important for us as a car manufacturer to create a space for them to communicate back, because expression is a part of modern life.