The FIA World Rally Championship (WRC) continues next week with Ypres Rally Belgium, the eighth round of the 2021 season, making its long-awaited debut
Hyundai Motorsport's unchanged crew line-up sees Thierry Neuville/Martijn Wydaeghe, Ott Tänak/Martin Järveoja and Craig Breen/Paul Nagle taking on the tarmac challenge
The team is aiming to build on its double podium in Estonia in an effort to make up lost ground in the manufacturers' championship.
Hyundai Motorsport is targeting a return to the top step as the FIA World Rally Championship (WRC) heads to Ypres Rally Belgium, which makes its long-awaited debut on the WRC calendar as the eighth round of the season.
Hyundai Motorsport's crew line-up remains unchanged from the previous round of the championship, Rally Estonia. Tackling the narrow and twisting lanes of the Belgian countryside in the Hyundai i20 Coupe WRC will be Thierry Neuville/Martijn Wydaeghe, Ott Tänak/Martin Järveoja and Craig Breen/Paul Nagle. All three crews competed at the only previous tarmac event of the season, Croatia Rally, but will be aiming to take home a larger haul of points as the team seeks to make up ground in the manufacturers' title hunt.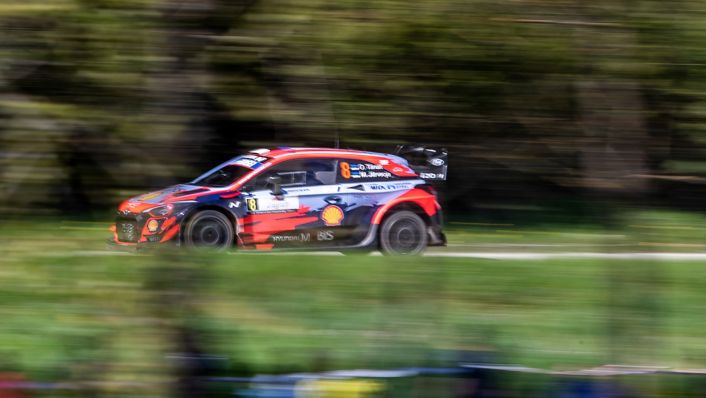 Thierry/Martijn and Craig/Paul travel to the event looking to continue the momentum of their podium finishes in Estonia, with both Thierry and Craig boasting previous victories in Ypres. The Belgians in particular will have high expectations for the weekend, as they compete at their home rally for the first time together as part of a WRC campaign. The Estonian duo of Ott/Martin came away from their own home event frustrated, despite showing excellent pace. Each crew will be hoping to challenge for victory in an effort to close the gap in the manufacturers' standings.
Ypres Rally Belgium is a well-established and popular rally with crews around the world. Both Neuville and Breen are both previous winners of the event, with the Belgian claiming victory in the 2018 round in a Hyundai i20 R5. With last year's round cancelled due to the COVID-19 pandemic, the 2021 edition will be its WRC debut and make Belgium the 35th different country to stage a round of the championship.
Famous for its deep ditches and slippery conditions, the event consists of 20 stages that will demand high levels of precision from the competing crews. Big cuts in corners will cause mud and debris to be dragged onto the road, so being first on the road could prove to be an advantage.
We welcome the opportunity to compete at Ypres Rally Belgium, a new event for the World Rally Championship that will provide more excitement to an already fascinating season. We are more confident in the performance of our Hyundai i20 Coupe WRC on tarmac, but we recognise the challenge that a new event poses, especially with the competition so tight between crews. Our objective is to pick up where we left off in Estonia, where we took a double podium finish, and to try our best to compete for the victory. It's Thierry and Martijn's home rally, so they will have extra motivation but generally speaking we know what we have to do and what we expect of ourselves and our crews.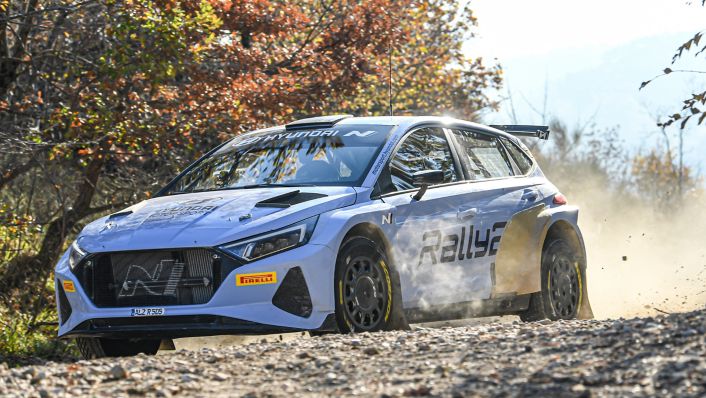 Crew Notes: Thierry Neuville/Martijn Wydaeghe (#11 Hyundai i20 Coupe WRC) 
Crew travel to home race sitting third in drivers' championship
Aiming for sixth podium of the year
We are all very much looking forward to be going to Ypres. It's a rally I've done a couple of times in the past, and I won the event back in 2018 with a Hyundai i20 R5. It's very challenging as the roads are quite narrow and slippery, and the ditches on both sides are always very deep, so you have to make sure to not make any mistakes and keep all four wheels on the road. I think we are going to see a lot of action; it has different characteristics to any other tarmac event we've seen so far. When we have competed in Germany in the past, there has been thousands of Belgian fans cheering us on, so with it being in Belgium, and in WRC, I'm sure it will be great atmosphere.
Crew Notes: Ott Tänak/Martin Järveoja (#8 Hyundai i20 Coupe WRC) 
Estonians hoping for a clean weekend of running in Belgium
Looking to secure second victory of the season
I've seen some footage from Ypres and it's obviously a very famous rally. Even though the road look straight in sections, there are still dangerous ditches making it incredibly tricky to drive. We managed to do a one-day test there before the event was cancelled last year and our feeling was that it is certainly going to be a challenging weekend. It will be our first WRC round on tarmac since Croatia, which wasn't a particularly comfortable rally for us. We have since had some time in the car at Rally di Alba, so I am certainly hoping for a better all-round feeling at Ypres.
Crew Notes: Craig Breen/Paul Nagle (#42 Hyundai i20 Coupe WRC) 
Irish crew head to their fourth event of 2021
Looking to build on second place finish in Rally Estonia
Ypres is one of the events I really like the most. I've been lucky enough to do it quite a few times across my career, and last time I was there in 2019 we managed to win the rally. It's definitely one of the most interesting and specialised rallies you'll ever do. On paper, it seems to be a strange profile of event but when you are in the car it is an amazing challenge. At pretty much every junction, the surface is a little bit different; it's an event I really look forward to and it's a rally worthy of World Rally Championship status.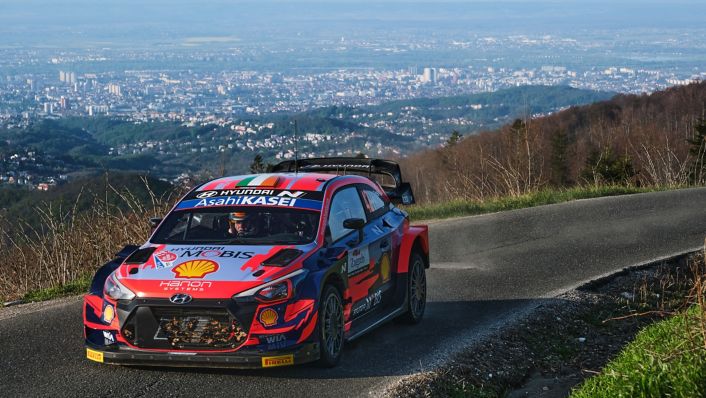 WRC 2 Overview
Ypres Rally Belgium will be a landmark event for Hyundai Motorsport, as Oliver Solberg and Jari Huttunen debut the brand-new Hyundai i20 N Rally2 in the WRC 2 category. The new vehicle follows on from the highly successful Hyundai i20 R5 and represents a step forward in every key area of the car – from handling and reliability to performance and driveability.
The event will be Solberg and co-driver Aaron Johnston's third rally of 2021 in WRC 2, but their first on tarmac. The talented young Swede will have his sights set on a strong result in Belgium, after car damage forced him to retire prematurely last time out at Rally Estonia.
Huttunen, alongside Mikko Lukka, has already shown his abilities in WRC 2 this season, winning the class at Rally Italia Sardegna. The Finnish pair will be hoping to return to winning form on the challenging stages of Ypres Rally Belgium.
It's been a real honour to be involved with the Hyundai i20 N Rally2. To be given the chance to drive this fantastic car for the first time in competition is so exciting. I can't wait to show the world what Hyundai Motorsport has been so busy making. I have never competed in Belgium before; I've done some testing there and I know it can be a complicated rally. If the weather and the conditions are mixed, it will be a real tough one – to be honest, even if it's dry it's definitely not an easy place to go for the first time.
I am looking forward to Ypres Rally Belgium and hope that we can bounce back after a difficult and disappointing weekend in Estonia. We have a lot to be excited about with the competitive debut of the Hyundai i20 N Rally2. We have carried out a lot of testing with the new car and we have a positive experience with it. Of course, we hope to do well and to enjoy a positive result. It will be a challenging new rally, for sure, so we'll have lots to learn.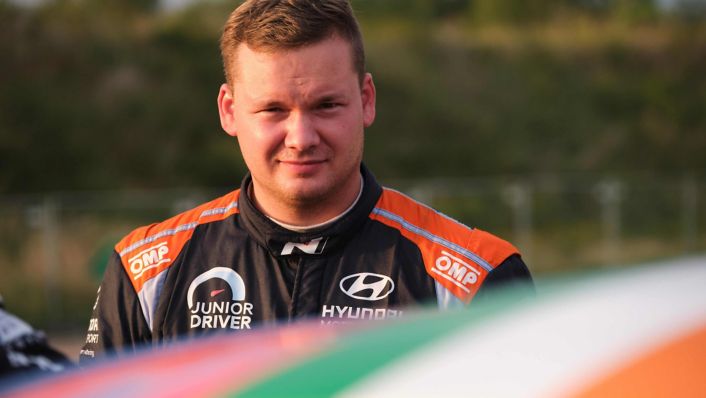 It's always a special moment when a new car makes its debut, and this rally is no exception. The Customer Racing team at Hyundai Motorsport have put a lot of hard work and effort into developing the Hyundai i20 N Rally2, and the new Ypres Rally Belgium will be the perfect opportunity to see the car in action. Oliver and Jari have both played an important role in developing this car across all terrains, so it is fitting for them to be part of this inaugural event with our new car. We know we will have some new things to discover on the car in a competitive situation, but our target is to have a successful first WRC 2 outing after a less than satisfactory event in Estonia.
Weekend at a Glance 
After a shakedown on Friday morning in Langemark, Ypres Rally Belgium 2021 gets underway later that day with two loops of four stages: Reninge-Vleteren (15.00km), Westouter-Boeschepe (19.60km), Kemmelberg (23.62km) and Zonnebeke (9.45km).
A further eight stages will take place on Saturday, with Hollebeke (25.86km), Dikkebus (12.49km), Watou (13.62km) and Mesen-Middelhoek (7.99km) each being run once in the morning and once in the afternoon.
The final day consists of two passes of Stavelot (9.05km) and Francorchamps (11.21km). . The second pass of Francorchamps will be the rally's Power Stage, offering bonus points to both drivers and manufacturers.
Hyundai Motorsport WRC Crews' Info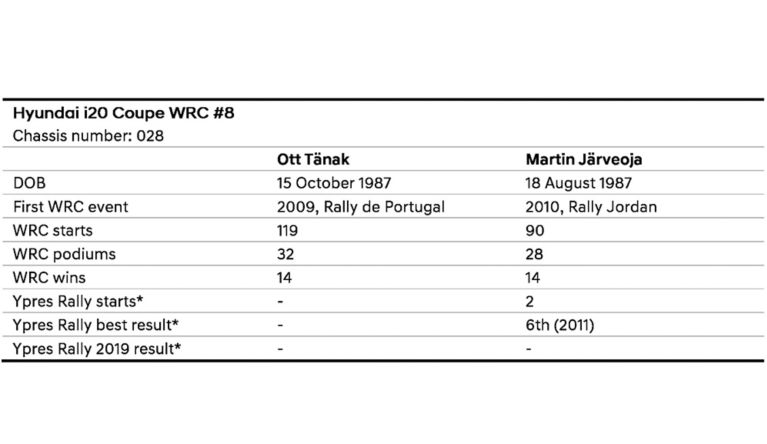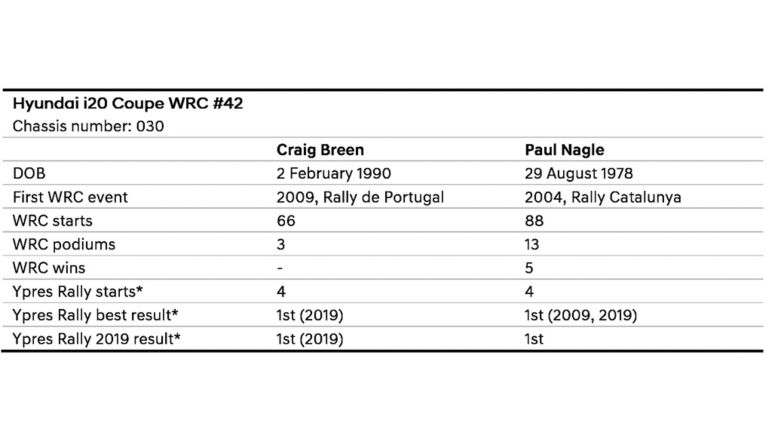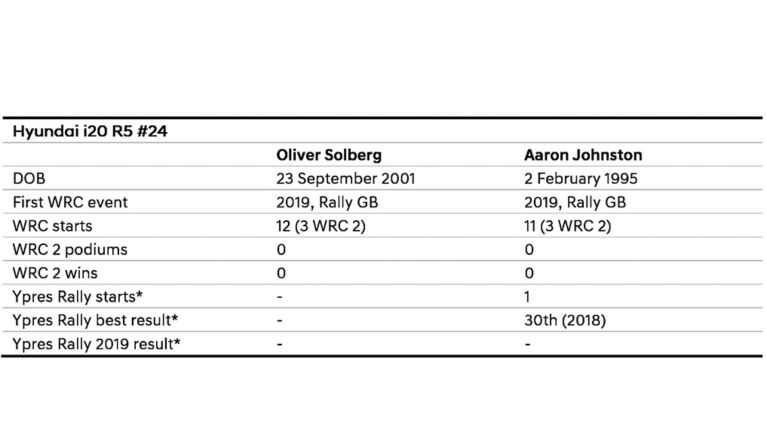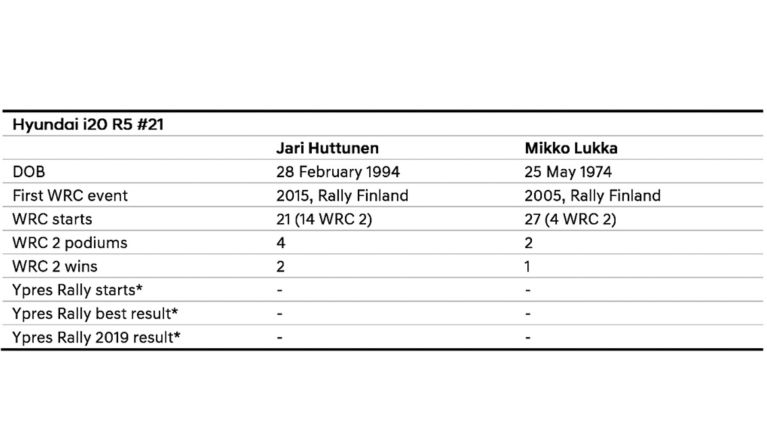 *Ypres Rally has run as a non-WRC event in previous years