World's first digital retail experience covering every aspect of buying a new car launches today, with unique digital store open for business at Bluewater – Europe's leading retail and leisure destination – to support the online experience
Research, choose, and buy a new Hyundai at home or in-store, with no obligation to talk to anyone
Possible to buy a new car in full online in just five minutes
Hyundai Motor and digital retailer, Rockar today unveiled the world's first digital automotive retail experience – Rockar Hyundai.
Rockar Hyundai is an innovative approach to new car buying which meets the needs of modern shoppers who are comfortable with purchasing online.
It provides a truly customer-focused experience that allows visitors to research, test-drive, part-exchange their old car and purchase a new Hyundai – with cash or various finance packages – all at the click of a mouse or touch of a button. Accessed via www.rockar.com, they can buy a car 24/7 in as little as just five minutes from their home or office using a computer, tablet PC or smartphone.
The online portal is supported by a physical store at Bluewater in Kent, Europe's leading retail, leisure and entertainment destination. It attracts 27 million visitors a year, and serves one of the largest and most affluent catchment areas in the UK.
Staffed by highly trained and knowledgeable 'Rockar Angels' rather than traditional salespeople, it's designed to provide a buying experience that puts the customer in complete control.
Two years in development, Rockar Hyundai's pioneering digital retail platform has been designed to be easy-to-use, flexible, convenient and completely transparent. The 'no-haggle' pricing means everyone pays the same. Throughout the process, customers need never speak to anyone if they don't want to.
Furthermore, Rockar Hyundai is enhancing the ownership experience with vehicle servicing. It offers customers the chance to bring their car back to the Bluewater store – perhaps as they shop, visit the cinema or have lunch with friends – for regular routine maintenance.
Simon Dixon, founder of Rockar.com who has been involved in automotive retail for 20 years commented: "The Rockar Hyundai partnership has the customer truly at its heart. It is all about putting the customer in control. We want to make buying a new car a pleasure whether you're at home on your sofa or at our modern digital store in Bluewater."
Tony Whitehorn, President and CEO, Hyundai Motor UK, commented: "Hyundai believes in putting the customer first and making sure that they have a great experience when buying and owing a car. Rockar Hyundai is exciting and innovative. It utilises the latest technologies to make life easier for car buyers.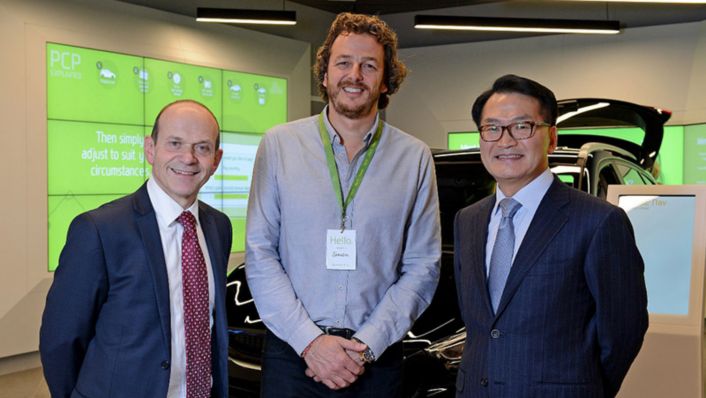 Traditional car dealerships will always have a vital role to play in the car buying and ownership experience. However, this online and in-store option gives customers another choice to fit around their busy lives." concluded Whitehorn.
Robert Goodman, Bluewater's General Manager, added: "The key drivers of Bluewater's success are evolution, innovation and experience. This exciting new digital store from Rockar Hyundai exemplifies these themes to create something quite unique. The selection of Bluewater for such a groundbreaking idea highlights its position at the forefront of the industry."
To celebrate the launch, Rockar Hyundai is offering the first 100 customers who purchase a car online or in-store 3 years of free servicing.