To celebrate ten years of Hyundai Motor UK, the car manufacturer is embarking on a drive with a difference
Hyundai ix35 Fuel Cell drives 2,000 miles of central London's streets
Hyundai is leading the way on Fuel Cell vehicle technology globally with Hyundai ix35
A Streetcar Named Hyundai is a world first initiative from Hyundai Motor UK that involves driving, photographing and filming.
A Streetcar Named Hyundai is a world first initiative from Hyundai Motor UK that involves driving, photographing and filming over 2,000 miles of central London's streets as defined by the world-famous cabbie 'Knowledge'.
The drive will be undertaken in the Hyundai ix35 Fuel Cell - a car that emits nothing but water and is the world's first commercially-available hydrogen fuel cell car - and it will create the first ever single mosaic image of up to 650,000 street pictures, and a 200.5 second time lapse video of the whole journey.  This will mark Hyundai's journey from 2005.  
The 50-day drive in the zero-emission Fuel Cell car, mapped out with the Ordnance Survey team who delivered the Olympic torch route, will be completed by some well-known names and employees of Hyundai Motor UK. It launches on 29th September and runs to 19th November 2015. More information can be found at www.astreetcarnamedhyundai.com.
Hyundai is creating entirely new software to capture the drive. This software will control the camera shutter, based on the car's speed, distance travelled and angle of travel to capture the entire journey photographically. The camera will take pictures every 6-7 metres delivering an estimated 650,000 images - that's 8,000,000MB of data. The images will be woven into a world-first photo mosaic and a time lapse video. A bespoke software engine will also sequence, align and blend the images in real time creating a continuous image that will be available online at the end of the challenge.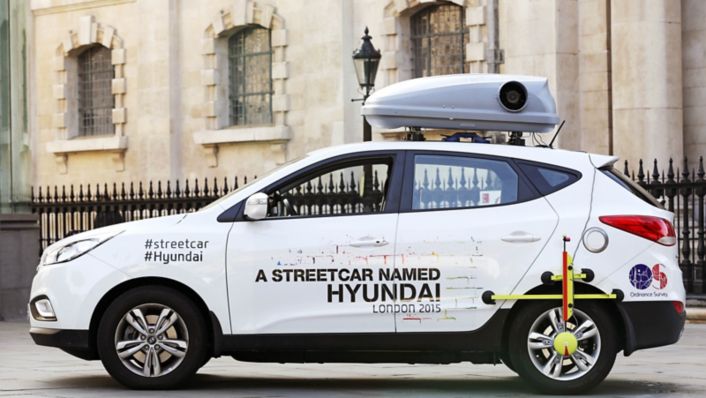 The final eight x two metre mosaic image will be exhibited to the public in London's City Hall after the challenge has been completed.
Matthew Pencharz, Deputy Mayor for Environment and Energy, said: "I am thrilled with Hyundai's progress in bringing fuel cell vehicles to the streets of London and I'm looking forward to seeing the results of their latest venture in the fantastic mosaic.
"As we look towards the introduction of the world's first Ultra Low Emission Zone; hydrogen vehicles can play a huge role in improving air quality and reducing carbon emissions in our city, all of which supports our goal of protecting the health of Londoners, and lengthening our lead as the greatest city on earth."
We're incredibly proud of how far Hyundai has come in the UK in the short space of ten years. During this time our product range has been completely transformed through innovation, design and technology – all of which are encapsulated in the ix35 Fuel Cell. This vehicle is currently the only fuel cell car on sale in the UK and has been tested on the streets of London since 2013.
A Streetcar Named Hyundai is a world-first challenge driven by a world-first product that is a demonstration of the ethos that has driven our brand development over the last ten years. I'm delighted that the people who have helped to get us to this point - our employees - will be an integral part of this journey and am very much looking forward to the outcome.
Nigel Clifford, Chief Executive of Ordnance Survey said: "From the outset of the challenge it was clear that detailed digital mapping and accurate routing would play a vital role. At OS we map Great Britain to amazing detail making over 10,000 changes a day to the mapping database. This up to date, detailed mapping allowed us to confidently plan and plot a continuous route weaving through the capitals road networks. This is, in fact, the most challenging routing project that we have ever undertaken and are delighted to be supporting Hyundai and look forward to seeing the end results."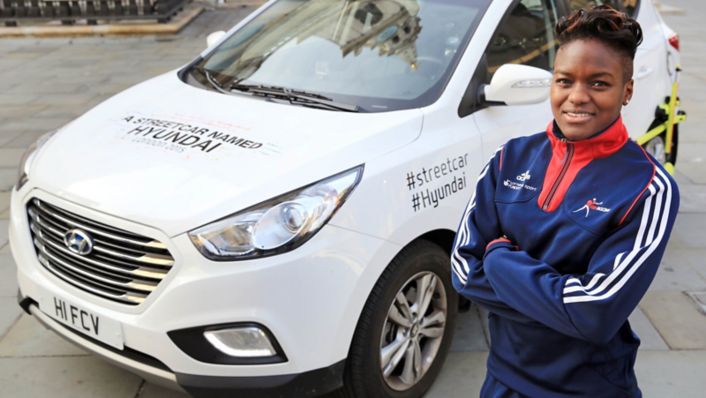 I've never been one to shy away from a challenge, and this one's really amazing. I'm thrilled to be taking part and this will be the first time I've driven a Fuel Cell vehicle so I can't wait to get behind the wheel.
The Fuel Cell offers the same practicality, performance, safety levels and driving experience that you would expect from a petrol or diesel powered vehicle - but with zero tailpipe emissions. In fact, the only emission is water. Hyundai is leading the way on Fuel Cell vehicle technology globally and the Hyundai ix35 Fuel Cell is an important step towards truly sustainable vehicles.