They discovered a powerful, elegant SUV with best-in-class safety features and exceptional roominess. Its eye-catching appearance is characterised by a powerful wide stance and an athletic, bold look that is reinforced by the eye-catching Composite Light and the Cascading Grille, Hyundai's family identity.
More than 400,000 units of Santa Fe have already been sold in Europe over the past 17 years, and with reviews for the fourth generation of this flagship SUV overwhelmingly positive, it looks set to be a big hit with customers wanting outstanding design, advanced technology and a great value for money ratio.
After it was unveiled to the public at the Geneva Motor Show earlier this year, Europe's motoring journalists have finally had the chance to test drive the All-New Hyundai Santa Fe.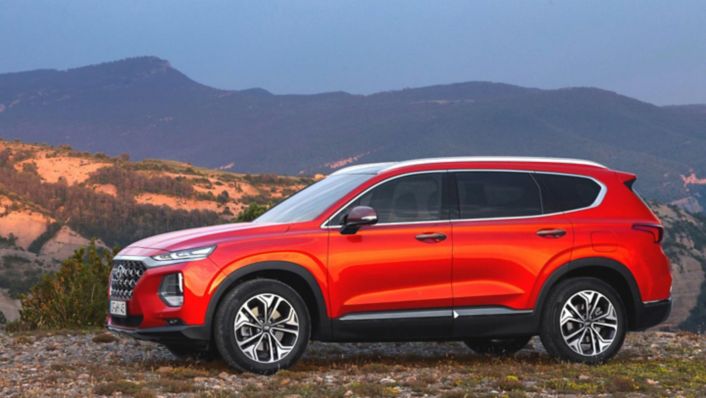 Top Gear
The team at Top Gear are notoriously hard to please, so it was high praise indeed when they described the All-New Santa Fe as 
"a very finely realised all-rounder"
. The praise didn't stop there, as they went to call it "a properly refined device with a brilliantly realised seven-seat cabin, handy tech and a relaxed gait. It's an unpretentious SUV with some handsome styling touches and the prospect of a painless ownership experience."
This extended to the flagship SUV's driving experience too, which Top Gear said was "laced with excellent refinement". Its engine "stays well supressed" and "wind noise is relatively low", making the Santa Fe "a relaxing long-distance companion".
Focus
Germany's Focus certainly noticed the All-New Santa Fe's premium design, telling readers that it 
"is harmonious in proportion…powerful, yet athletic, but not overly masculine"
. However, the review explained that the fourth generation Santa Fe didn't just succeed as "an outwardly attractive SUV. The flagship of the brand also impresses with its comfort, space and quality – as well as its unique safety systems".
Focus was impressed with the "generous" space in the Santa Fe's front and rear space, as well as its impressive 1,695-litres total load space. It also marvelled at the new SUV's advanced technology, including the warning system that will "sound an alarm if there is not enough room to open the tailgate and it will hit the garage ceiling".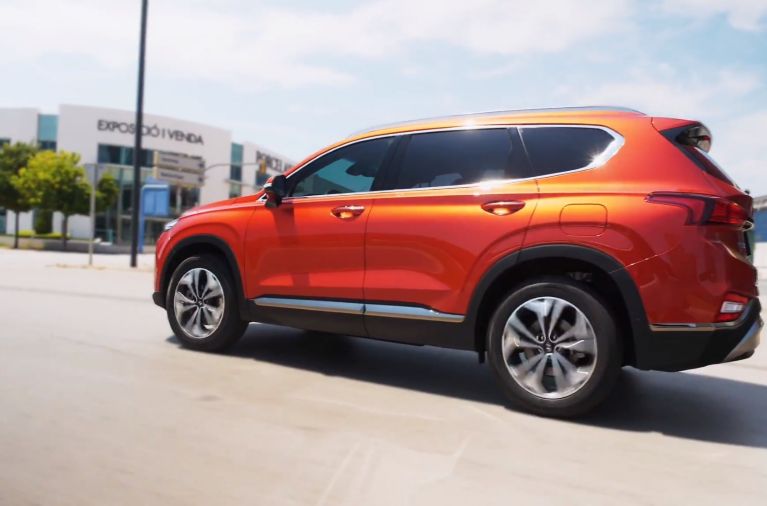 AutoExpress
Like Top Gear, the What Car reviewers praised the All-New Santa Fe as "a seriously competent all-rounder". They said it had made significant 
"strides in quality, practicality and technology, and altogether it'll be a seven-seat SUV to consider when it goes on sale later this year"
.
Delighted to find "a roomy and well-finished interior, with plenty of soft touch plastics high up on the dashboard and doors", the What Car team said that "room for passengers in the back seats is really very good", including the third row. Even better, they found that "configuring the seats to your needs is simple enough thanks to a selection of one touch buttons and pulls for folding and moving them. All in all, the new car impresses from a practicality perspective".
alVolante
Coming from a country that is home to some of the world's finest fashion brands, it means a lot when Italy's alVolante described the All-New Santa Fe's interior as 
"modern, elegant and particularly neat in style"
. It also found the flagship SUV's finishes to be "of a good standard, with very precise fittings, abundant use of quality materials (in addition to the seats, the soft leather also covers the upper part of the dashboard) and pleasing plastics".
alVolante wasn't just impressed with the Santa Fe's aesthetics; it also applauded its SmartSense advanced driver assistance and safety systems, including the "innovative" Safety Exit Assist and Rear Occupant Alert. The reviewers also noted how the combination of the Land Keeping Assist and Smart Cruise Control with Stop & Go allowed them "to travel on the motorway in maximum relaxation".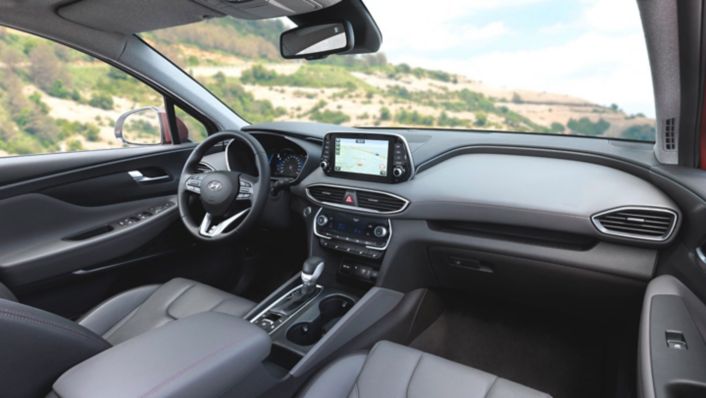 What Car
One of the biggest reasons for buying a large SUV is the amount of space it offer, and What Car said the All-New Santa Fe offers it in abundance. It described the Santa Fe as 
"a proper seven-seater and roomier than any other SUV in this price bracket"
.
In the front, if found that "even the tallest of drivers have plenty of room and generous adjustment to get comfortable", while "room in the second row of seats is also good, even with the panoramic sunroof that's fitted as standard to Premium SE models". Even with the Santa Fe's enviable roominess, the reviewers were still surprised to find "how much room there is left over on the third row of seats".
What Car concluded that all this practicality doesn't come at the cost of being good to drive. Around town, it found Hyundai's flagship SUV was "actually quite light, making manoeuvring surprisingly easy", while its engine "pulls well from low revs and has plenty of poke for motorway journeys".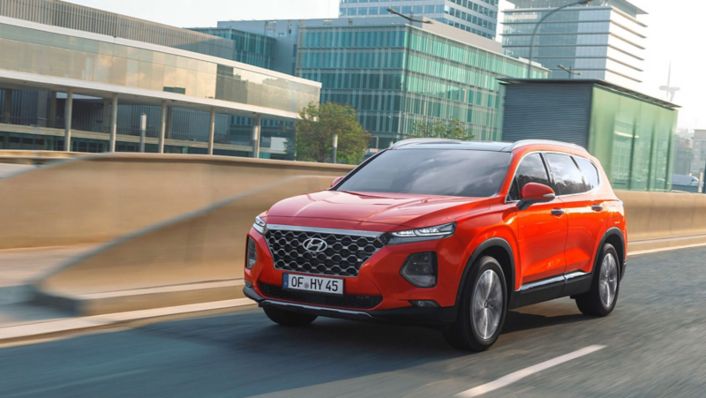 Carwow
They say first impressions count, and the All-New Santa Fe certainly made a big one on Carwow, who welcomed its "imposing" stance, 
"seriously imposing grille and masses of eye-catching chrome details"
. Getting inside, it decided that "the new Santa Fe's cabin looks more like it belongs in a boutique hotel", with "plenty of soft-touch materials and faux-leather trims" that "make it feel pretty plush".
Carwow found getting comfortable in the Santa Fe was easy too, thanks to "plenty of space and lots of seat adjustment" including "adjustable lumbar support to reduce back-ache on long stints behind the wheel". Its reviewers found the extra driver assistance systems the Santa Fe offers cars "really help take the stress out of long drives" and even make it "easy to park", while from a practicality perspective they saw it as "one of the few SUVs on sale with space inside" for five rear seat passengers to sit in comfort.