The i30 was launched in 2017 at the 
67th Frankfurt International Motor Show
 but, thanks to Hyundai Motor's experience in the high-octane world of motorsport, the first ideas were born on the track long before and developed to deliver a car which screams fun as much as its racing engine hums.
Hyundai's first mass-produced high-performance car has since been 
lavished with high praise
, described in the media as a "massive success", "an absolute triumph" and an "astonishing performance model." Here are ten things you might not know about the Hyundai i30 N.
A hot hatch designed for maximum enjoyment, the Hyundai i30N is inspired by the race track but equipped for the every day. Here are ten great things about the model built for total performance.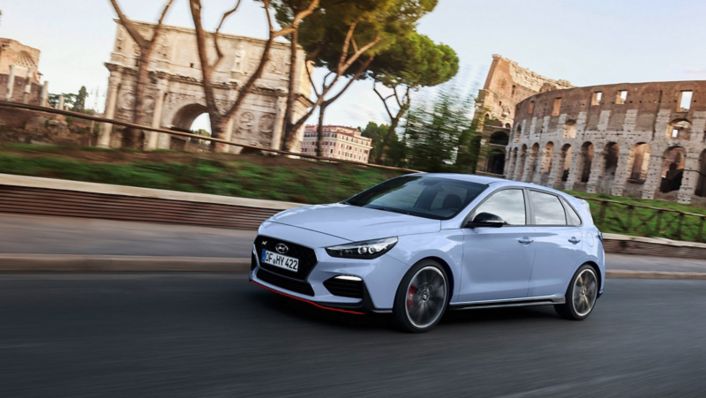 1. Driven by motorsport

Hyundai Motorsport has been a highly successful participant in the gruelling World Rally Championship since 2014 though Hyundai vehicles have competed in other competitions prior to that. From its base in Alzenau, Germany, the programme has enabled its engineers to apply their experience to develop and refine Hyundai's N range of performance cars. The i30 N takes true race capability to every day driving.

2. Tested at the Nürburgring

Hyundai N's high-performance technologies were honed at Germany's world-famous Nürburgring. As part of the Hyundai i30 N durability testing, and as with all its European-made models, the car recorded up to 480 laps of the track in both dry and wet conditions, simulating up to 180,000 km of severe driving. With 20.8 kilometres of track, the Nürburgring is part of a motorsport complex that is home to Hyundai Motor's own 3,600 square metre testing centre.

3. A distinctive look

While it is based on the i30 five-door, the i30 N boasts its own unique design. It shimmers with the blue colouring synonymous with Hyundai Motorsports race cars. The model has an enlarged version of Hyundai's defining Cascading Grille providing more air cooling to the engine and brakes. The i30 N also has aggressive bumpers with larger air intakes and a red character line. An aerodynamic rear spoiler with triangular brake light, and a dual muffler exhaust complete the sleek, sporty look.

4. PlayStation® inspiration

Along with real-world race technology, the i30 N high-performance range could also call on virtual inspiration. The Hyundai N 2025 Vision Gran Turismo concept was unveiled at the 2015 Frankfurt Motor Show and was created exclusively for PlayStation®'s Gran Turismo video game series. A Hyundai Motor hydrogen fuel cell system equipped this concept car with total power of 884 PS and included an additional super capacitor system.

5. Endurance master

Two close-to-series i30 N production models proved the car's track credentials by completing the ADAC Zurich 24-hour race at the Nürburgring. In total, the vehicles completed 244 laps equating to more than 6000 kilometres.
6. BPM not RPM

Designed to deliver pure driving enjoyment, the i30 N emphasises its emotional impact on drivers by measuring heartbeats per minute (BPM), rather than simply revs per minute (RPM). The i30 N's rev matching function is built to adjust the revs on the engine when the driver shifts from a higher to a lower gear and supports smooth gear shifting. The dual muffler exhaust sounds add to the pleasure of commanding a true high-performance vehicle.

7. Five drive modes

Proof that the i30 N is engineered to put a smile on your face is seen with the aptly-named N Grin Control System. Buttons on the steering wheel alternate the i30 N's five drive modes, including Eco, Normal, Sport, N and N Custom settings. Each mode changes the car's character, adjusting the high-performance parameters of the vehicle, including its engine and rev matching.

8. Built for speed

The i30 N boasts a top speed of 250 km/h and goes from 0-100 km/h in just 6.1 seconds. That's all thanks to the powerful T-GDi engine, generating 353 Nm torque from 1,500-4,700 revs per minute (RPM), reaching a maximum of 378 Nm when in overboost.
9. Performance tracking

Inside the i30 N combines the latest connectivity technology with performance analysing software. Entertainment features include smart-device synching through Apple CarPlay and Android Auto to the 8-inch free-floating screen. Satellite navigation information can also be displayed but for those race-day track experiences, the car's systems can also record lap times and cornering forces thanks to the car's G-Force meter.

10. Cutting-edge safety

The i30's driving performance and enjoyment is only matched by its state-of-the art safety systems. These features include Forward Collision-Avoidance Assist (FCA), Lane Keeping Assist (LKA) and Intelligent Speed Limit Warning (ISLW).